Written by Siddhartha Gupta | Noida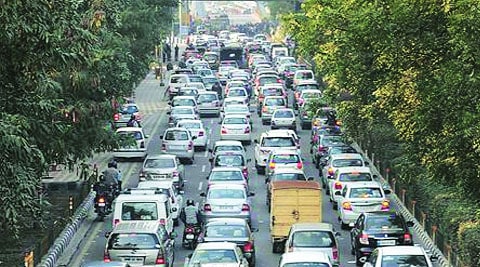 A traffic jam in Noida. (Source: Express Archive)
SUMMARY
Officers said police had written to the state government several times in the past, requesting for more men, but to no avail.
Close to three months after the Uttar Pradesh Cabinet sanctioned a proposal to boost the Traffic police force of Gautam Buddh Nagar by adding around 500 men, things are still to see any change on the ground.
In fact, records obtained from the office of the senior superintendent of police show that Gautam Buddh Nagar has been allotted only 97 traffic constables to man traffic spread out across 1,440 square kilometres.
Officers said police had written to the state government several times in the past, requesting for more men, but to no avail.
"More than 10 letters have been sent in the last two years. This February, the UP Cabinet finally sanctioned our request for around 500 men. But nothing has changed on the ground so far. I have been here for over three years, and in my tenure, the strength of the traffic police force has hardly ever crossed 100. It was as low as 67 at one time. And I don't think the situation will see a change unless people are recruited in large numbers," an officer said.
The traffic movement in Noida and Greater Noida is more than 30 lakh per day, with vehicles passing through nearly 300 busy intersection. Police officers said the busiest intersections in Noida are the ones at Model Town, Kalindi Kunj, Chilla, Sector-37, Rajnigandha factory, Sector-71 and Sector-60.
According to official records for the last three years, an average of 900 accidents have taken place in Gautam Buddh Nagar per year, which have resulted in approximately 400 casualties and left 650 injured.
Alok Sharma, IG (Meerut Zone), however, said that 100 personnel was a sufficient number to man the traffic in Gautam Buddh Nagar. He said recruitment to the traffic police force was underway but it would take another year for fresh recruits to be trained and deployed on the ground.
"Sanctioning of proposals by the Cabinet is meaningless unless new people are brought in. Manpower crunch is a problem in the entire state. But nothing can be done before another year. It will take a year for the recruitment process to conclude and fresh recruits to be trained," Sharma said.
An officer said the number of CCTV cameras in Gautam Buddh Nagar was also not sufficient.
"We also need more CCTV cameras. There are around 140 cameras installed in 40 locations. It is not a sufficient number," the officer said, adding that proposals had been sent to Noida Authority to augment the infrastructure required to boost traffic management.
Source:The Hindu
Vinod Rajput, Hindustan Times  Noida,
To better its existing traffic management system by curbing rampant traffic rule violations, the Noida authority on Monday, decided to introduce electronic (E) challan facility soon.
The authority has roped in telecom major- Airtel for this ambitious project, which will also be helpful in implementation of intelligent traffic management (ITS) in future.
"E-chalan will enable traffic police to issue an instant chalan of a traffic violator. The moment a vehicle found violating any of the traffic rules like- traffic signal jump, rash driving and recklessly changing lanes etc, then police control room will get an SMS with the help of high-tech CCTV cameras installed on traffic poles at all traffic signals," said Manoj Kumar Rai, officer on special duty (OSD), the Noida authority.
  The Noida authority chairman Rama Raman on Monday had a meeting with assistant regional transport officer (ARTO)- Rajesh Singh, and airtel officials including Noida authority traffic cell to brain storm over the project at its sector 6 office.
To ensure smooth travel to thousands of daily commuters, and regulate city's burgeoning traffic, the authority has already numbered each traffic pole installed at existing 69 traffic signals.
"We will give hand-held devices to traffic police to issue E-Chalan. After Delhi, Noida will be the first city in NCR to have E-chalan facility," said OSD.
The authority has formed a team consisting of traffic police and traffic cell officials to identify two busy traffic signals, where trials will be conducted.
"If trials will be successful, then in next 2 months, this facility will be implemented in entire city to ensure better traffic regulation. The authority want to ensure that commuters do not face traffic jam," said OSD.
Officials maintained that it is on way to build a road-map to make way for implementation of intelligent traffic system (ITS), which will work to monitor and regulate city traffic in a high-tech manner ahead.
Aniruddha Ghosal, TNN |
NOIDA: Traffic on the DND flyway, the most vital link between Delhi and Noida, will slow down from June 8 due to its repair. The work is expected to last at least five weeks, depending on the onset of monsoon in the region, and has been divided into five stages, each focusing on a different part of the route.
Traffic police officials said it would be unrealistic to expect no traffic snarls. "Traffic will definitely be slow on the DND, especially during peak hours, affecting movement across Delhi and Noida. Almost 1 lakh vehicles use DND daily," said a senior traffic police officer.
The work will resurface the entire flyway barring the Mayur Vihar link road which had already been repaired. After correcting the cracks, a layer of glass fabric will be applied on the road and after this a layer of bituminous concrete will be laid.
"Existing small cracks will be filled up while the larger cracks will be excavated and corrected. The glass fabric will prevent further cracks and reverse osmosis, the primary cause of cracks," said Anwar Abbasi, spokesperson, Noida Toll Booth Company Limited.
Officials claimed that measures had been taken to help commuters. "We have hired an agency for traffic management and they will, along with our staff, ensure that traffic flow isn't hampered. The work will take place throughout the day to ensure speedy completion of the project. During summer holidays, there's also a 30% decline in vehicular movement," said Abbasi.
The repair, which is being done after consultation with the Central Road Research Institute, has been divided into four 1.5km segments.
In the first phase, the stretch between Delhi and Noida will be repaired. The second stage will see simultaneous repairs of the Sarai Kale Khan ramp and the entry point to the DND from Maharani Bagh. In the third phase, the Yamuna Bridge-toll plaza stretch will be worked upon. In the fourth stage, the toll plaza-Noida corridor will be worked upon and finally repair will be done on the Yamuna bridge itself. Each stage will take approximately a week to finish.
Source-http://timesofindia.indiatimes.com
Noida, G.noida authorities approve proposal, allocate crore
The first project of the new company will be a 29-km link proposed between Noida City Center and Greater Noida's Bodaki.
 Following in the footsteps of Delhi Metro Rail Corporation (DMRC), Uttar Pradesh's two industrial developmental authorities — Noida and Greater Noida — on Monday approved a proposal of forming its own metro rail construction company to construct 29-kmlong link between Noida City Centre and Greater Noida's Bodaki. The company, named as Noida Metro Rail Company (NMRC), will provide a fast link between two townships.
BURHAAN KINUThe two authorities have allocated R1,000 crore initial corpus fund to set up the company, which will be engaged in constructing metro rail network across UP.
"The first project of NMRC will be the 29-km-long proposed metro link project between Noida and Greater Noida. It will then take up all future metro extension projects in the state. However, old approved metro projects such as 3.9-kmlong link from Kalindi Kunj to Botanical Garden and 6-km link from City Centre to Sector 62 towards NH-24 will be completed by the DMRC as planned earlier," said Rama Raman, chairman of three authorities — Noida, Greater Noida and Yamuna Expressway.
"The board has approved NMRC, now it will get UP government's official nod very soon. Then UP registrar will register the name. NMRC will start functioning in a few months," said Rama Raman in the Hindustan Times Real Estate Conclave 2013 at Noida on Monday.
Of the 29-km stretch, 19 kilometre will fall in Noida jurisdiction, and the remaining 10 kilometre stretch will fall in the Greater Noida region.
"DMRC will work as a consultant for future projects. But construction work will be carried out by NMRC only," said Rama Raman.
Officials said after Bangalore, Kochi, Jaipur and Chandigarh, Noida will be the fifth city to boast its own metro rail company.
"It is being done to take load off DMRC, which is burdened with too much work. And unlike corporation, it will be a company," said another authority official.
The authority has also written to the Delhi Mumbai Industrial Corridor (DMIC), seeking funds as this link will connect Bodaki with Noida. Bodaki is the first industrial town, which is being developed by DMIC. "We are hopeful of getting funds from the DMIC. We will invite tenders in the next 6 months," said an authority official.
http://paper.hindustantimes.com
DND flyway drive gets dearer as Noida Toll Bridge Company hikes toll rates
Toll rates for the DND (Delhi-Noida Direct) flyway were hiked from today by the Noida Toll Bridge Company Limited (NTBCL)."Two wheelers toll rates have been increased from Rs 11 to Rs 12, for cars from Rs 22 to Rs 25, LCVs from Rs 45 to Rs 55, bus and truck will now shell out Rs 70 from earlier Rs 55. Large vehicles will pay Rs 100 from existing Rs 75 and extra large vehicles from Rs 95 to Rs 135. The hiked rates are effective from today," said Anwar Abbasi, spokesperson, NTBCL.
However, the commuters are disappointed with the increase four months after withdrawing the toll hike."Today I paid Rs 25 as toll tax for my car instead of Rs 22. It will put an additional expense of Rs 180 every month," said Neeraj Sharma, a resident of Noida who uses DND Flyway to go to his work place at Defence Colony in Delhi.
The planned expressway will dwarf the 95km-long, six-laned, access controlled expressway connecting India's financial capital Mumbai with Pune
Mumbai: Twenty firms have submitted initial bids for building India's longest and biggest expressway project yet—a Rs40,000 crore, eight-laned, access controlled expressway linking Ballia in eastern Uttar Pradesh (UP) with Greater Noida—located on the border of the Capital, New Delhi.
The 1047 km-long road project dubbed Ganga Expressway will, when operational, cut travel time between the backward eastern part of Uttar Pradesh and the more prosperous western part of the state, by 16 hours from the current 24 hours.
For a traveller, it would take just about eight hours to zip from the holy city of Varanasi to New Delhi when the project is completed.
The planned expressway will dwarf the 95km-long, six-laned, access controlled expressway connecting India's financial capital Mumbai with Pune and the under construction and controversy-ridden 111km-long expressway linking Bangalore with the garden city of Mysore.
The firms that have applied for pre-qualification include Larsen & Toubro Ltd, Reliance Energy Ltd, DLF Ltd, IL&FS Ltd, Gammon Infrastructure Projects Ltd with Australia's biggest investment bank Macquarie, GMR Group, the Omaxe Ltd-GVK Group-Nagarjuna Construction Co. Ltd consortium, the Bajaj Hindusthan Ltd-Apollo Group-D S Constructions Ltd consortium, Jaiprakash Associates Ltd, Canadian firm SNC Lavalin with Progressive Constructions Ltd, Unitech Ltd, Punj Lloyd Ltd, Oman's Gulfar Engineering & Contracting Llc., Zoom Developers Pvt. Ltd, Australia's Leighton Group with Oriental Construction Co. Ltd, and PLUS Expressways Berhad, a subsidiary of Malaysia's UEM Group, according to an official with the UP government overseeing the bidding process who did not wish to be named.
UP has taken inspiration for building the Ganga Expressway from legendary Afghan leader Sher Shah Suri, who built the Grand Trunk Road connecting Delhi with Kabul in the 16th century after temporarily displacing Humayun from the Mughal throne.
Suri's road ran alongside the right bank of the Ganga; the new expressway will be built on the left bank of the river.
The eight-laned expressway will be constructed on an embankment to be built by the state's irrigation department for controlling floods on the left bank of the Ganga.
The proposed expressway will start at Ballia-Gazipur and pass through Varanasi, Mirzapur, Sant Ravidas Nagar, Allahabad, Pratapgarh, Rae Bareli, Unnao, Hardoi, Farrukhabad, Fatehgarh, Shahjahanpur, Badaun, Bulandshahr, Gautam Buddhanagar and terminate at Greater Noida.
The expressway project will make available around 5,000 acres of land for real estate development including residential and industrial units. This will make the project economically viable for the developers.
The work on the expressway project will begin next year.
Source:  livemint.com
New Okhla Industrial Development Authority (Noida) is known to be the largest industrial town of Asia, but now it has undergone a paradigm shift in the last few years. The real estate in Noida is hitting the sky, which is due to a large migration of people from Delhi who are being bullish to make it their home. As a part of Uttar Pradesh, Noida cannot remain untouched by the problems prevailing in the state. Despite all, the individuals who have shifted their base to Noida witness to live a splendid life. And today with one more reason for all the real estate players in Noida is none other than the proposed second international airport at Greater Noida. The development is likely to give a push to prices of residential and commercial property projects in twin cities of Noida and Greater Noida.
Noida certainly benefits from the relative proximity to Delhi. Excellent network of roads, 100 per cent power back up make up for a good idea to stay here. Also, Noida is attracting large interests from young well to do professionals who are making the highest income tax paying district in UP. Even many prominent names in both domestic and international hospitality sector are to initiate exclusive five-star hotel projects in Greater Noida. The list includes Unitech, Carlson, ITC, Bharat Hotels, and NRI hotelier Sant Chatwal. To be located in the close proximity to the proposed international airport, these commercial establishments will enjoy an added advantage.
According to Mr. M L Sehjpal, Director of Pearls Infrastructure Projects Limited, "Noida has developed into the land of opportunities. Property demand has sky rocketed here. Housing opportunities are in great demand as are commercial spaces. Moreover, the demand for residential property in Noida and Greater Noida is likely to shoot up in very near future, feels industry watchers. In the wake of better infrastructure facilities, Greater Noida already gains preference over Gurgaon. A direct metro link with Delhi and the Expressway will further improve accessibility of Noida."
As conglomerates, Indian corporate is scouting for commercial spaces; NOIDA is emerging as a preferred IT & ITES destination of India. Real estate developers in Noida in their bid to lure investors are coming up with state-of-the-art office spaces as per international standards. Mr. Harjeet singh Arora, MD, Best Groups, "There is an excellent potential in India and abroad as there is a lot of movement in corporate circles as India's large, educated middle class has made its name in the field of software and IT-enabled services, thereby fuelling demand for about 40 million square feet annually in IT and ITES office space. With the sudden jump in demand for space, the real sector is witnessing a huge charn." Best is also coming up with an IT Park in Greater Noida.
Futuristic Plan of Noida
Plans are to set up a multipurpose SEZ (Special Economic Zone) spread on 2,500 acres of land along the Expressway envisioned to be categorically divided into industrial, residential, recreation, commercial and facilities. Within this plan, 600-1000 acres of land has been earmarked for handicrafts related SEZ. The much-awaited Noida City Center between sectors 25A and 32 is also a futuristic offspring of this plan.
Noida authority is looking forward to set up a medical city on a spread of 50+ acre of land along the expressway to be named Arogya Dham. This medical city shall be a congregation of super-specialty hospitals with world – class facilities and matching commercial complex, attendant's homes and plenty of open space thanks to wide roads, parks and green cover.
The Botanic Garden of Indian Republic (BGIR) is being set up on a spread of 200 acres in sector 38A to conserve the endangered plants of the country and showcase its near extinction plan diversity.
It is also planned to connect Delhi and NOIDA through Delhi Metro Rail Corporation phase II construction program, latest by 2009.
NOIDA is also setting up CNG-based outlets for vehicles in collaboration with Indraprastha Gas Ltd.
Source: indiaprwire.com
NKG Infrastructure Limited (the "Company"), an ISO 9001:2000 Certified Construction Company, engaged primarily in execution of infrastructure projects like Highways, Roads & Bridges, Extension and Grading of Runway at airport, errection and installation of power sub-station and construction of buildings has filed its Draft Red Herring Prospectus ("DRHP") with the Securities & Exchange Board of India ("SEBI") to enter the capital market with its initial public offering of equity shares. At present, it is executing 67 projects including projects in joint ventures across various states in India. The value of projects under execution is Rs. 526.87 cr.
The Company proposes to issue 63,00,000 equity shares (the "Issue") of Rs. 10 each for cash at a price to be decided through a 100% Book-Building process constituting 44.41% of the fully diluted post issue paid-up capital of the Company. The objects of the Issue are to deploy the proceeds for funding the capital expenditure requirements, investment in joint venture & BOT projects & augmenting the working capital resources.
The Equity Shares are proposed to be listed on the Bombay Stock Exchange Limited and the National Stock Exchange of India Limited. The Book Running Lead Manager ("BRLM") to the Issue is SPA Merchant Bankers Limited.
Incorporated in 1989, the Company is engaged primarily in execution of infrastructure projects and civil construction projects. Recently the Company has diversified into installation and erection of electric substations, with project for installation / testing / commencing of external electrical works in Gomti Nagar, Lucknow. The major projects of the Company are in the state of Uttrakhand, Uttar Pradesh and Madhya Pradesh. It is also executing/executed projects in the states of Haryana, Punjab, Gujarat, Himachal Pradesh & Pondicherry. Its major clients include Public Works Department & other agencies of various state governments & development bodies like Noida Development Authority, Lucknow Development Authority, Ghaziabad Development Authority, etc. It is also executing project for Airport Authority of India in joint venture for extension and grading of runway at Pant Nagar airport. The private sector clients include construction companies like Era Construction India Ltd., Nagarjuna Construction Company Ltd. and Marg Construction Ltd.
Source: moneycontrol
Driven by infrastructure spending, the demand side for construction companies remains robust. The key to success will lie in their ability to ramp up resources and capitalise on order flow.
Compound Annual Growth over 3 Years (%)
Indicative OPM across segments (%)
Infrastructure has been the new market mantra the past two years. While private equity investors showed keen interest in infrastructure/construction companies, a number of mutual funds also jumped on to this booming bandwagon, investing a chunk of their assets in the sector. An annualised revenue growth of 30-40 per cent over the past three years and an average order size of three-four times the revenues also seem to justify this newfound enthusiasm.