In Noida, sanction for more traffic cops remains on paper
Written by Siddhartha Gupta | Noida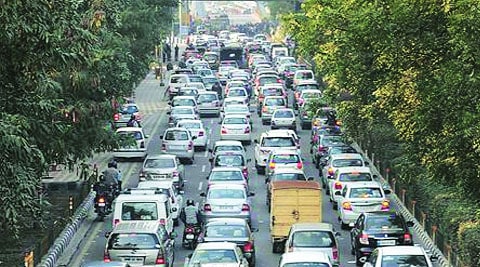 A traffic jam in Noida. (Source: Express Archive)
SUMMARY
Officers said police had written to the state government several times in the past, requesting for more men, but to no avail.
Close to three months after the Uttar Pradesh Cabinet sanctioned a proposal to boost the Traffic police force of Gautam Buddh Nagar by adding around 500 men, things are still to see any change on the ground.
In fact, records obtained from the office of the senior superintendent of police show that Gautam Buddh Nagar has been allotted only 97 traffic constables to man traffic spread out across 1,440 square kilometres.
Officers said police had written to the state government several times in the past, requesting for more men, but to no avail.
"More than 10 letters have been sent in the last two years. This February, the UP Cabinet finally sanctioned our request for around 500 men. But nothing has changed on the ground so far. I have been here for over three years, and in my tenure, the strength of the traffic police force has hardly ever crossed 100. It was as low as 67 at one time. And I don't think the situation will see a change unless people are recruited in large numbers," an officer said.
The traffic movement in Noida and Greater Noida is more than 30 lakh per day, with vehicles passing through nearly 300 busy intersection. Police officers said the busiest intersections in Noida are the ones at Model Town, Kalindi Kunj, Chilla, Sector-37, Rajnigandha factory, Sector-71 and Sector-60.
According to official records for the last three years, an average of 900 accidents have taken place in Gautam Buddh Nagar per year, which have resulted in approximately 400 casualties and left 650 injured.
Alok Sharma, IG (Meerut Zone), however, said that 100 personnel was a sufficient number to man the traffic in Gautam Buddh Nagar. He said recruitment to the traffic police force was underway but it would take another year for fresh recruits to be trained and deployed on the ground.
"Sanctioning of proposals by the Cabinet is meaningless unless new people are brought in. Manpower crunch is a problem in the entire state. But nothing can be done before another year. It will take a year for the recruitment process to conclude and fresh recruits to be trained," Sharma said.
An officer said the number of CCTV cameras in Gautam Buddh Nagar was also not sufficient.
"We also need more CCTV cameras. There are around 140 cameras installed in 40 locations. It is not a sufficient number," the officer said, adding that proposals had been sent to Noida Authority to augment the infrastructure required to boost traffic management.
Source:The Hindu