SOWMIYA ASHOK
Crores of rupees also earmarked for improving water supply and make the Yamuna navigable
Delhi's infrastructure is expected to get a fillip with the Centre planning to allocate almost Rs.4,000 crore for the development of Ring Road here. Funds running into crores of rupees have also been earmarked for improving the water supply and make the Yamuna navigable.Sources said the plans were revealed by the Union Transport Minister Nitin Gadkari at a workshop organised for Bharatiya Janata Party municipal councillors here on Tuesday. A senior South Corporation leader said the funds for development of Ring Road will be allotted if plans are approved to create a corridor that will decongest the city's roads.
"Mr. Gadkari asked us to study the problems affecting the city, keeping in mind the next 10 years to 15 years. He asked us to keep our approach development-oriented and make representations to the Ministers concerned about issues," said a participant, adding that it was specifically mentioned there were no dearth of funds to improve the infrastructure in the city.
Further, the councillors were asked to come up with a vision document to enhance the water supply situation. Plans to set up a "building architecture approving authority", which will work independently of the Municipal Corporations to sanction building plans, were also discussed.
"This authority will be pulled up and its licence revoked in the event of an untoward incident. This was just one of the ideas discussed. Nothing has been finalised," he added.
Mr. Gadkari also directed the councillors to improve the functioning of the three civic bodies.
"We were told to focus on providing the best services to the people, get rid of corruption and create a blueprint for making Delhi into a world class city," said a councillor.
Regarding the Yamuna, the councillors discussed setting up two barrages that will make the river navigable, and come up with ways to treat sewage water, which can be diverted for irrigation purposes for the city's parks and gardens.
As a part of the redevelopment plan, trams will be introduced on a 2.5 km long stretch to connect Subash Marg with Fatehpuri Masjid
A file photo of tram playing in Kolkata street. Photo: Indranil Bhoumik/Mint
New Delhi: In a bid to revive the lost heritage of National Capital, Lieutenant Governor Najeeb Jung has approved a proposal which will pave the way for trams to ply on the streets of Delhi.
First introduced in Delhi on 6 March 1908, at the behest of Viceroy Lord Hardinge, the heritage joyride faded into oblivion in 1960 outdone by growing modern means of transport and the vehicular traffic.
As a part of the redevelopment plan, trams will be introduced on a 2.5-km-long stretch to connect Subash Marg with Fatehpuri Masjid.
"Apart from trams, the proposal involves introducing lanes for non-motorised vehicles and 50% of the area will be reserved for pedestrain pathways. Vehicular traffic will be restricted in the area", said a senior Delhi government official, adding the proposal was approved last week.
"The tram service will connect the stretch linking Red Fort with Fatehpuri Masjid and will run alongside wide footpaths," according to sources, techincal partners like Delhi Metro Rail Corporation Ltd (DMRC) would be roped in for implementation of the trams project.
The details and designs of the proposal will be submitted to the Unified traffic & Transportation Infrastructure (Planning & Engineering) Centre to be chaired by Lt Governor himself next week.
Tenders will be issued to invite investment proposals in this regard.
The meeting was attended by officials from the Public Works Department, civic bodies and representatives from traders and non-motorised vehicle users of the area.
Trams, which was one of the cheapest means of conveyance, ran from 1908 to 1960. It connected Jama Masjid, Chandni Chowk and Sadar Bazaar. However, trams were discontinued mainly because of space crunch and growing number of vehicles.
Source-http://www.livemint.com/
By Dipak Kumar Dash, TNN |
NEW DELHI: After several flip-flops, the road transport and highways has decided to build the much delayed Delhi-Meerut expressway starting from Nizamuddin Bridge on Ring Road. This is one of three expressway projects that PMO is monitoring with the target of awarding work in this financial year.
Once complete, commuters will be able to reach Meerut in 45 to 60 minutes and cut travel time to Haridwar and Dehradun by almost an hour.
While the present stretch of NH-24 up to UP Gate will be   widened to 14 lanes from the present eight, the road between UP Gate and Dasna will be eight-laned. The next phase of the expressway will be built on a new alignment from Dasna to Meerut — a six-lane stretch joining Meerut bypass.
"Since the expressway has been planned to improve connectivity between Delhi and Meerut, the six central lanes on the Delhi-UP Gate stretch will be barricaded exclusively for traffic heading towards Meerut," said a transport ministry official.
The official said local traffic would use the rest eight lanes without having to pay toll. "Those entering the expressway lanes will be tolled even if they get out at UP Gate or Dasna," he said. will be eight-laned. The next phase of the expressway will be built on a new alignment from Dasna to Meerut — a six-lane stretch joining Meerut bypass.
"Since the expressway has been planned to improve connectivity between Delhi and Meerut, the six central lanes on the Delhi-UP Gate stretch will be barricaded exclusively for traffic heading towards Meerut," said a transport ministry official.
The official said local traffic would use the rest eight lanes without having to pay toll. "Those entering the expressway lanes will be tolled even if they get out at UP Gate or Dasna," he said.
The Uttar Pradesh government was earlier keen on getting Rs 900 crore central assistance for widening of NH-24 from UP Gate to Dasna. It wanted the work to be executed by the state public works department. Earlier, the road ministry had also floated a tender to widen this stretch with 100% government funding.
Sources said the proposal of starting the expressway from Nizamuddin Bridge was taken to tap the huge traffic flow from Delhi to make the project financially viable. The 28km stretch between Nizamuddin Bridge and Dasna is one of the most congested in the NCR. The traffic flow is likely to increase considering dozens of new residential projects coming up along this stretch of NH-24.
NH-58 that connects Anand Vihar with Meerut has already congested and there is almost no scope of further expansion since the road passes through built-up areas in Muradnagar and Modi Nagar. So, the expressway is expected to come as a big relief for those going towards Haridwar and Dehradun.
Source-http://economictimes.indiatimes.com
It was meant to be an intrinsic part of the urban dream that Noida was building. A 24.53-km stretch between Noida, a city that has its origins in the 1970′s, and, the more recent, planned extension of Greater Noida. If other satellite towns around the national capital such as Gurgaon constantly despaired on the state of the roads both inside and those leading to the city, the Noida-Greater Noida Expressway was Noida's answer to motorists' demand for world-class roads as more and more people drive in high-end and sophisticated cars.
Built by the Jaypee group which has also constructed the Yamuna Expressway, and later handed over to the Noida Authority, the six-lane road was meant to provide a high-speed link between Delhi and Greater Noida, in turn boosting the region's market value. More than a decade after it was constructed in 2002, the road has stayed true to the promise of high-speed travel. But speed, combined with other logistical failings and lack of police enforcement, has turned the expressway into one of the most dangerous stretches in the National Capital Region (NCR).
Speed thrills
The expressway, almost deceptively, is far removed from the chaotic traffic that exists in the areas it connects — Delhi, Noida and Greater Noida. All six carriageways are well-carpeted, tempting drivers to speed. Lush greenery covers the median along the entire length, the road bending gently at places — but never enough to bring the speedometer down considerably. There are no traffic signals and, in concept, there is nothing to prevent an uninterrupted drive. But often, there are visible reminders that a commute was interrupted. A truck upturned on the median, a car damaged beyond recognition. Lives halted midway.
Pedestrians
The first of several safety-related issues facing the expressway is pedestrians crossing the road. With the average speed of vehicles exceeding 85kmph, people crossing the road pose a risk to both themselves and the cars that veer dangerously to avoid them. "The reason we have to cross the road is there are no over-bridges. People are forced to cross the road to reach a bus stop on the other side, negotiating vehicles travelling at over 100kmph. We are exposed to danger every single day," said Amit Gupta, a student at Amity University.
A string of commercial and residential projects have come up on both sides of the expressway, fuelled by good connectivity and Noida-Greater Noida's growing population. "This has resulted in an increasing number of pedestrians who want to cross the road. Some of these institutions like Amity University and HCL cater to either students or office-goers who run into thousands. A majority of them use public transport and, therefore, have to navigate the expressway. Lack of bus stops at appropriate points and foot over-bridges means accidents are waiting to happen," a traffic police officer said.
No over-bridges
While a large number of establishments have already come up near Noida, large residential complexes such as the Jaypee Wish Town complex are on their way as well. "Construction workers also cross the central verge, often carrying construction material that hampers their mobility. Once these complexes are ready, then residents will try to cross the road. It is imperative that arrangements are made. Either in the form of traffic signals or over-bridges at designated spots," the officer said.
If the blame for the dearth of civic infrastructure can be laid at the door of the Noida Authority, the district traffic police too has failed to check over-speeding on the stretch. While the speed limit is 100kmph for cars and 60kmph for heavy vehicles and two-wheelers, it is routinely violated. Additionally, vendors selling sugarcane and fruits squat on the periphery of the road with several vehicles stopping by to make purchases. On the days Indian Express visited the expressway, on a weekday and again on a weekend, not one patrol vehicle was visible.
Lack of policing
"There is no deterrence as there are no police vehicles. If there is an accident, this delays investigation as well as reaching medical help to victims," said Manish Sharma, a resident of Greater Noida who uses the stretch everyday.
Exacerbating the danger posed by high speed is the presence of extremely slow-moving traffic: cycles and other modes of public transport such as tempos. "Since no toll is charged on the road, it is the easiest route for people going from Noida to Greater Noida. There are various pick-up points such as Amity, HCL, the KPMG building and others, where people gather to board tempos," said Prahlad Kumar, who operates a tempo on the stretch.
Dangerous in the day, the expressway becomes a demon at night. A Central Road Research Institute (CRRI) report states that the most dangerous period is between 10 pm and midnight, a time when trucks and other heavy vehicles use the road.
Speed it may facilitate but the 24.53-km stretch finds itself caught between its conception of a high-speed expressway and lack of sufficient checks and balances to make the drive a safe one. The twain must meet, for lives are at stake.
Source- http://www.indianexpress.com
ANCHAL DHAR : Gurgaon,
The re-carpeting and re-construction of MG Road will be completed six months, the Public Works Department (PWD) has said. PWD officials said the heavy vehicular traffic on the stretch was delaying the work.
The work was taken up last month when Gurgaon and Delhi surburbs were witnessing heavy rains. This in turn caused traffic to stop for nearly two hours during peak hours, an official said.
Geeta Parashar, a resident of DLF Phase 2, said, "There seems to be no order at junctions. What is the point of constructing roads when traffic is not regulated and the entire project is poorly managed?"
About two lakh vehicles ply on MG Road — one of the busiest stretches in Gurgaon — daily.
The MG road re-construction began at two points — the Sikanderpur Metro Station and near Guru Dronacharya Metro station. The work was stopped for days due to heavy rains and was resumed in early September.
N K Tomar, Executive Engineer, PWD (B&R) said, "Initially, when the Gurgaon-Faridabad Road was being constructed by the PWD, the commuters were hassled. But after the road was constructed, many have described it as one of the best stretches in Gurgaon. Similarly, due to high vehicular traffic on MG road, the project has seen many delays. At the Sikanderpur Metro station, we blocked the entire carriageway as there was a service road to reroute traffic. At Dronacharya Metro station, we blocked only one side of the carriageway as there was no service lane to divert traffic. The work was slow in these areas keeping the traffic in mind," he said.
"The work at IFFCO Chowk, which sees maximum traffic, will be carried out towards the end of the project. We intend to divert traffic towards the HUDA City Center Metro station — onto the NH8. The project will take another six months to complete. The PWD and traffic officials are meeting regularly to chalk out plan to avoid any massive traffic disruption in the area," Tomar said.
Source-http://www.indianexpress.com/
Drivers face 150 rupee (£2) fee to enter central areas after the number of cars on Indian capital's
roads doubles in five years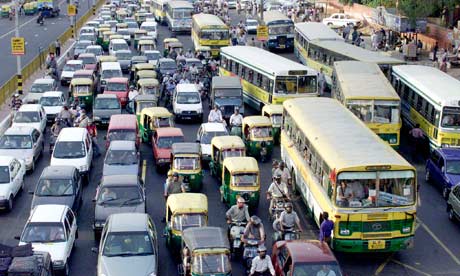 (Traffic jams are a regular occurrence in Delhi. Photograph: Reuters/Corbis)
No one could fault the plan for lack of ambition: to tame the choked streets of India's
notoriously chaotic capital by imposing a congestion charge modelled on that in London,
Singapore and a handful of other cities.
The Municipal Corporation of Delhi, the authority charged with providing civic services
to the city, hopes to introduce a system to levy a 150-rupee (£2) fee on cars, motorbikes
and even rickshaws entering central areas during the day.
"This will help reduce congestion … [and] encourage people to use public transport," the head
of the authority, KS Mehra, told local press. Lorries will be made to pay a higher fee.
A congestion charge has existed in Singapore since the 1970s and various systems have
been successfully introduced in London, Rome, Milan and several Scandinavian cities
in recent years.
Authorities in Beijing recently said they were considering congestion charging, and other
Chinese cities such as Shanghai and Nangjing are reported to be interested. But no city
of the size and complexity of Delhi has attempted to introduce such a scheme.
Few doubt the necessity of radical measures in India's capital. Construction of a metro
system and measures to boost the use of buses has barely slowed the increase in traffic
in recent years. A decade of rapid economic growth and a broad distaste for public
transport among the expanding middle class means there are now 6.8m vehicles on
Delhi's roads, at least twice as many as five years ago.
Gridlock is common and, during winter, heavy smog leads to accidents, respiratory
diseases and mass flight cancellations.
Other Indian cities such as Mumbai, the country's commercial capital, are considering
similar measures. The Delhi scheme would first be implemented in areas around
the historical old centre.
But experts are sceptical. "If you look at what is already in place to reduce congestion,
such as toll gates around Delhi, they make the problem worse, not better," said Rumi Aijaz,
of the city's Centre for Policy Research thinktank. "Even if the proposal is accepted
politically, the necessary infrastructure simply isn't there."
The tolls on key roads linking Delhi with satellite cities cause huge traffic jams.
Occasionally they are the focus of protests that can turn violent. Aijaz said a broader
strategy to tackle traffic in the city was necessary. "There has to be a range of measures
to manage the issue. Nothing done in isolation will work," he said.
Experts point out that one serious problem is a lack of proper licensing or law enforcement
in Delhi. Driving permits can be bought illegally and laws that should ensure safe driving
and a smoother traffic flow are routinely ignored.
Fines for traffic violations can usually be avoided by paying a small bribe to police officers.
There are few cameras, although a Facebook page asking irate commuters to post their
own photographs of offenders has met with a massive response.
Senior police officers said charging would be a positive step – if technology to avoid
queuing was introduced. But even if the practical obstacles can be overcome, the support
of the infamously fractious "delhiwalla" – inhabitants of the city – will be hard to win.
Some shopkeepers welcomed the move, but their customers were less enthusiastic.
"People are already reeling under taxes … we don't need any more," Mamta Choudhary,
a teacher who regularly shops in one of the areas designated for the new scheme,
told the Times of India newspaper.
Ram Thakur, a 45-year-old manager who spends up to two hours a day in traffic
driving from the satellite city of Faridabad to his office, said no amount of charging
would make him give up the small car that he bought a year ago. "I started on a bicycle
and I've taken buses for 20 years. Now I am a car owner and life is very much nicer.
I am not giving it up to go back on buses or bikes," he told the Guardian.
Dr Robin Hickman, an expert in urban transport at London University, said that
implementing a congestion charge in Delhi would be "extremely difficult. "It would
probably be a better option to increase tax on fuel in the city and invest the funds
generated in public transport," Hickman, who has worked in Delhi, said.
HT Correspondent, Hindustan Times  New Delhi,
The much-awaited e-challan project of the traffic police has finally kicked-off in the city though the official inauguration of the project will take place at the end of this month.
"We made all 1,200 e-challan devices operational a few days ago. However, certain technical glitches remain which are being sorted out. We hope to formally launch the project by end of the month and make available the e-payment option in the devices," said Anil Shukla, additional commissioner of police (traffic).
 On Sunday, the police issued 2,239 e-challans to traffic violators in the Capital.
The e-challan has replaced a traffic policeman's age-old challan book. It aism to help the police catch repeat offenders as it will be linked to the central database and will provide the policeman a record of previous traffic violations, if any. Traffic police claim the device will enable them to raise at least Rs. 120 crore per annum through e-challans, about three times the average annual amount of Rs. 45 crore.
With the launch of this project, Delhi has joined the league of Hyderabad, Bangalore, Chennai and Mumbai, where such a system is already in place, though sources said the devices are showing some glitches like heating up and connectivity problems.
The hand-held devices have been distributed among policemen in all traffic circles and are together likely to generate nearly 2,500-3,000 challan receipts every day, said a senior traffic police official.
The police have also received a go-ahead for the e-payment gateway from the ministry of home affairs and have tied up with State Bank of India for the facility, said officials.
The e-challan project had faced a number of administrative and technical roadblocks. These included the machine malfunctioning due to weather conditions and the inability of policemen to operate the devices.
Darpan Singh, Hindustan Times  New Delhi,
Water, water everywhere, not a drop to drink: Samuel Taylor Coleridge had famously written in his poem, The Rime of the Ancient Mariner. Were he to write on Delhi's parking problems, he would have probably started: Cars, cars everywhere, just no place to park.
True, the growing number of cars and finding a place to park them is one of Delhi's biggest urban nightmares. It has also led to a host of other problems — traffic congestion, encroachments, no walking place, quarrels, road rages and even murders.
Sample this: Parking has consumed nearly 10% of the city's urban land and green and open spaces. In stark contrast, the share of the capital's forest cover is just 11%.
And it's just not about a chaotic present. Worse is in store in the future. The constant addition of cars — 1.6 lakh are registered in a year — means Delhi needs an area as big as 310 football fields to accommodate them every year, studies at the Centre for Science and Environment (CSE) have shown.
From 39.40 lakh vehicles in 2002-03, the number has risen to 74.38 lakh in 2011-12, an 88% increase. All this for cars that remain parked for 90% of the time, meeting only 14% of Delhi's travel needs.
"It is physically impossible to find parking space in Delhi. As the number of cars in Delhi grows, the space available for people gets squeezed, and the human living environment gets overrun. Cars are like an invasive species that out-competes people for space," global parking expert Mark Gorton told HT.
The urban sprawl of Delhi has forced more and more people to use cars. This has led to the creation of a massive car-centric infrastructure. "Flyovers, signal-free corridors and overbridges obstruct and destroy movement patterns needed to promote walking, cycling and public transport. Even more people are forced to use cars…the vicious cycle continues," said CSE's expert Anumita Roychowdhury.
About 1% of Delhi's population of 17 million lives in Lutyens' Delhi. This has pushed growth to the periphery and increased dependency on cars.
Innovations such as multi-level parking have failed to provide any relief because of the long cruising time and lower charges in surface lots.
"I don't use multi-level lots because of the time factor," said Nishant, 20, of Paschim Vihar.
Lack of adequate parking space also leads to all kinds of crimes. Last year, parking caused 27 cases of violence. 15 murders over parking have been reported in the last five years.
Till July 31 this year, a murder and a robbery, besides five cases of molestation, two rapes and 203 thefts have been reported at parking lots.
Markets crammed with vehicles lead to space crunch and overcharging in parking lots — often double the normal rate. A nexus among contractors, officials and corporators ensures the practice goes on.
In residential areas, service lanes of colonies are packed with vehicles and this leads to frequent fights. Residents suffer as emergency vehicles such as those of police and fire services often get stuck.
Parking in residential areas does not cost a rupee. The absence of a parking policy due to lack of political will only add to the woes.
Then, there is no barrier-free walking, no cycle tracks and no playgrounds. Shops have poor visibility and people have a bad shopping experience. Green belts and footpaths have been encroached upon.
"The corporation is planning to convert some parks in Kalkaji into driveways. This is absurd," said DS Mann Kalkaji F Block RWA.
"When I lived in Munirka, a neighbour had four cars and one fine day, he cut down a huge, old tree because he needed more parking space," said Smita, 35, a resident of Mayur Vihar phase-1.
SPECIAL  CORRESPONDENT
With the intent of making travelling in public transport a smoother and more reliable experience for commuters, the Delhi Integrated Multi-Modal Transit System (DIMTS) has launched the Delhi Transit Bus Info application. Providing vital information on the estimated time of arrival of buses, routes and locations of bus stops, the application aims at helping passengers get all the information at the click of a button, all in real time.
The application will provide details on the estimated time of arrival, route details, track location of a bus, bus schedule, location of bus stop, and trip planner.
"The Delhi Transit Bus Info application will be available both on the Internet and on android-based devices. Bus passengers can either go on to the DIMTS website www.dimts.in and click on 'Bus information for orange-coloured Delhi transit buses' or view the application on the beta version 'Delhi Transit Bus Info', which can be downloaded from Google Play Store," said a DIMTS statement.
Stating that "the beta version of the application is currently available for devices working on the android platform," the statement said: "It will be extended to other platforms like iOS, Blackberry and Symbian."
The application is currently available for only orange-coloured Delhi ransit or cluster buses, except for the trip planner feature, which gives data on DTC bus routes also. However, DIMTS added that the information for DTC-operated buses for the rest of the features will be integrated into the application soon.
Under the project, bus users will also be able to give their feedback on the system through a feedback form that is available both on the website as well as the phone application. DIMTS has launched the test version to invite a candid feedback from the public and further improve the application.
Subhendu Ray, Hindustan Times  New Delhi, June 16, 2013
Travelling across the city in Delhi Metro is likely to get more comfortable if you are a smartphone user. You may not even need to carry a Metro smartcard or buy a token because your phone will have everything you need.The Delhi Metro Rail Corporation (DMRC) is exploring the possibility of introducing a new system termed near-field communication (NFC), which has the ability to make smartphones act as Metro smartcards. The NFC device in your phone will act as the electronic identity document and keycard.
"We hope to put the system in place soon and reduce the use of physical smartcards within two years before our network expansion under phase 3 is completed. NFC devices are currently at a trial stage," said a senior engineer of the signalling department of DMRC.
The projected average daily metro ridership in 2016 is projected at nearly 40 lakh once phase 3 expansion is over. DMRC is eyeing at a 30 per cent reduction in manual smartphone transactions through this system.
Many new Samsung smartphones, Nokia Lumia phones, Sony's Xperia range, HTC's high-end phones and LG's Optimus range support NFC. Many other smartphone makers too are reportedly keen on introducing the system.
"An antenna chip will be inserted in the smartphone, which will function as a smartcard. The commuter will have to bring the phone close to the automatic fare collection (AFC) gate to gain entry," said Anuj Dayal, chief spokesperson of DMRC. The device will establish radio communication with the AFC gate when touched or in close proximity to the phone.
"The new generation phones will let you recharge the chip. The amount of recharge will be reflected in your monthly phone bills ", he added.
The NFC devices are also being tried as alternative to smartcards in Dubai and Singapore metros, he said.