Nitin Gadkari: No tenders for roads without 80% land in place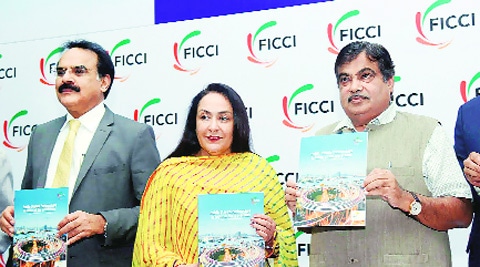 Summary:Around 300 projects to be up for bids in 5-10 years.The government will not bid out any highway project without acquiring at least 80 per cent land for it. Around 300 road projects are to be bid out within the next 5-10 years after securing all necessary regulatory clearances, the country's road transport and highways minister Nitin Gadkari said on Wednesday.
Addressing a public-private partnership summit organised by Ficci, Gadkari said the government has decided not to float any tender without acquiring adequate amount of land for executing a project. To fast-track tendering and execution of projects, Gadkari said officials of concerned ministries need to be more responsive and work at a brisk pace.
"Time is the most important thing in infrastructure and business and delays cost the country to the tune of Rs 15 crore a day. Files are kept pending for months. I have asked highways officials to fast-track decisions and requested the Prime Minister to issue directions to all officials," he said. The minister said he would be holding a meeting every month as per Prime Minister Narendra Modi's direction to ensure timely clearances.
Gadkari asked the developers to refrain from aggressive bidding for projects as had happened in the past when companies shouldered projects without due clearances and those projects failed to take off despite financial closures.
Sharing the dais with Gadkari, finance secretary Arvind Mayaram said the government is working on a sophisticated and flexible framework for the public-private partnership model to boost infrastructure development.
The flexibility is imperative to factor in changes in the circumstances that run over a period of 25-30 years, he contended. Mayaram reminded that the private sector has to share the risk associated with PPP projects, as the government alone cannot bear the entire responsibility.
"There is a need to see whether we can look at developing a framework which is going to decide what stress is, who is responsible for stress, what is causing the stress and how we deal with them?," he said.
The proposed 3P India institution will look at issues relating to regulation, financing structures, stress in project, management of contract over a period of time and also issues relating to capacity building both in public and private sector, Mayaram said. "It will be a unique and powerful institution which will rejuvenate the entire universe of PPP which seems to be slowing down at the moment," he added.
Finance minister Arun Jaitley, in his Budget speech, had proposed setting up of an institution to provide support to mainstream PPPs called 3P India with a corpus of Rs 500 crore.
Source:The Indian express