Delhi-Gurgaon toll plaza removed, office goers get a snarl-free ride
Express News Service | New Delhi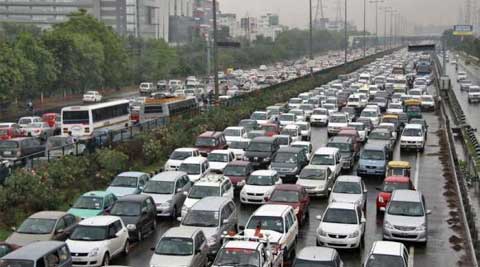 The move has certainly brought huge relief to the daily commuters between Delhi and Gurgaon. (Photo: Reuters)
SUMMARY
  It was a pleasant ride for the office goers in the national capital region as the Gurgaon toll plaza was removed late Wednesday night. The toll plaza at the Delhi border was removed following an order of the Delhi High Court.
While the removal of toll plaza at the Delhi-Gurgaon border has made the movement for those commuting to and from Gurgaon free of traffic snarls and brought a mild relief to their pockets, those travelling beyond Gurgaon towards Manesar and Jaipur will now have to shed more.
The toll rate at the Kherki Dhaula toll has been almost doubled – from Rs 27 to Rs 56.
The High Court decision resolved a two-year-long dispute between the National Highways Authority of India (NHAI), project financier IDFC and toll operator Delhi-Gurgaon Super Connectivity Ltd (DGSCL).
Justice Manmohan Singh in his order approved the consent agreement, under which the IDFC has agreed to pay a sum of Rs 24.65 crore to DGSCL. It was submitted in court that it has already issued demand drafts to the tune of Rs 8.85 crore to DGSCL.  The affidavit also said the IDFC was bound to pay the remaining amount — Rs 15.8 crore — by way of demand draft before February 28, 2014.
The notification states that there will be no extra burden on the users between Delhi-Jaipur. Between Manesar and Gurgaon, users may avail discounts available to local traffic by taking a pass for 30 days.
The decision on whether to dismantle the toll plaza at 61KM has not yet been taken, with parties stating in the affidavit that it was up to the Roadways ministry to consider the issue.
Under the agreement, the NHAI has also offered to keep four lanes on the left for the South Municipal Corporation to collect tax from commercial vehicles entering Delhi.
The South corporation has raised certain objections to the arrangement, arguing that it would not be possible to collect the tax as there would be no mechanism to ensure that commercial vehicles keep to the dedicated toll lanes.
The court will now hear the plea filed by South corporation and toll collection agent SMS AAMW Tollways on Thursday.
And the move has certainly brought huge relief to the daily commuters between Delhi and Gurgaon.
Source-http://indianexpress.com/