Demand is growing faster than anticipated. And there is such dearth of infrastructure that new capacities will be absorbed promptly
Last month, the showpiece urban transportation project, the 28km Delhi-Gurgaon expressway was inaugurated. Another big-ticket project, Bangalore International Airport Ltd, is set to begin operations in March. In the case of the expressway, traffic on the first day was what was projected for 2013. In Bangalore, the passenger traffic will cross 11.3 million—a number initially projected for 2015—by the end of the year. In both cases, capacities for the first year are inadquate.
Clearly, the project planners in both instances got their projections quite wrong. But, if one steps back, a more complex picture emerges. The most obvious fact is that demand is growing faster than anticipated. And there is such dearth of infrastructure that new capacities will be absorbed promptly. In contrast, China seems to be a case of excess capacities.
Another factor being debated is that this is not a simple case of an owner-operator failing to anticipate traffic. Any entrepreneur would see the obvious and plan for it. Instead, it is argued, given the cost of capital, one shouldn't expect anything different. Our real interest rate—corrected for inflation—is about 7%, probably among the highest in the world. Hence, the entrepreneur's action would be an error of commission—to minimise project risk.
The other side of the coin is that the pricing of public services is subsidized, largely to ensure that the less well off can avail the benefits. In other words, far more people can afford to consume these services than otherwise. While not making a case for leaving out these segments, there is need to strike a correction.
The reason is simple.
Subsidized consumption, like other political largesse, comes at a fiscal cost. Not only does this push up the cost of capital, it also—since government borrowings inevitably expand money supply—stokes inflationary pressures, hurting the very people that the government set about protecting. In China it is the opposite, where fiscal profligacy subsidizes investment.
Both extremes are unsustainable. Given India's mixed socio-economic demography, there is a case for revisiting subsidized consumption. A good beginning would be if the political parties arrive at a consensus that ensures bad economics will no longer be passed off as sensitive politics.
A precedent exists. Gujarat, in the early 1990s, had come out with a document detailing an all-party commitment to structural reforms in the state. That no doubt underlines the economic success of the state over the past decade.
Source: livemint.com
Mega investments in infrastructure and the recent market correction offers an exciting investment opportunity in construction stocks.
The robust GDP growth rate experienced by the country in the last few years is indeed commendable and was aided by investment in infrastructure. To sustain growth rates, it is imperative for India to make higher investments towards setting up world-class infrastructure. As per the planning commission estimates, investments in infrastructure is set to go up by a whopping 130 per cent to $520 billion for the eleventh Five Year Plan (FY 2008-12) as against the $226 billion made during the tenth plan (FY 2003-2007).
Construction companies will be among the first beneficiaries of these investments and will deliver good and sustainable long-term growth.
Since the investment plans for each of the sub-segments in infrastructure space varies, based on priorities, there is reason to believe that not all the segments or companies will grow at all times. For instance, regional players or less diversified ones may experience volatility in revenues. For companies, faster project execution capabilities and access to key construction machinery (equipment) are equally critical, which in turn will determine the growth rates and profitability margins, respectively for any company. For example some companies are looking at purchasing their own equipment to tackle rising hiring costs and protect margins.
Thankfully, despite issues, the huge opportunity dwarfs concerns. Says Satish Ramanathan, head equities, Sundaram BNP Paribas, "While the future is promising, earnings could be volatile. Choose companies on valuations, order book and services portfolio."
Last, but not the least, the recent correction in stock markets provides an opportunity to buy good companies in the space at reasonable valuations. Among many stocks, we have picked 10 stocks—four large caps (Read: Bigger the better) and six mid-caps, which are likely to emerge as key beneficiaries of the ongoing investments in the infrastructure sector. Bigger companies are well-established, diversified and less risky. Investors with low risk appetite can consider them. The smaller ones are efficiently managed and are on the growth path with good earnings visibility. Notably, they may also grow faster, given the size of the opportunity and their individual strengths. But, small size also means that there is an element of risk and hence, investors need to review them on a quarterly basis and look at the flow of new business and financial performance.
Era Infra Engineering
Era Infra Engineering, which was earlier into the construction of industrial and commercial space, has diversified into verticals such as railways, roads and highways, airport, urban infrastructure and oil and gas. The company now commands a sizeable order book of Rs 4,100 crore, which is thrice its FY08 estimated revenue.
The company is also developing commercial and residential buildings on its 500 acre land in and around Delhi and Jaipur. Though some of these projects will only be completed by FY10 and FY11, four of them will be completed in FY09 thus providing significant revenue growth.
Besides, the company is also investing about Rs 200 crore in growing the building structure segment. Building structures, which includes the construction of metal structures used at public and private places, is a high growth and high margin business accounting for 21-22 per cent operating margins. The company is currently having total capacity of 45,000 tonne per year of structure, which will be expanded to 185,000 tonne per annum by September 2008. The contribution from new capacity will reflect partially in FY09 and fully by FY10. The expanded capacity at current realisation of Rs 58,000 per tonne can get additional revenue of Rs 750-850 crore per year, assuming 70-80 per cent capacity utilisation.
Additionally, the company is also investing in plant and equipment to scale up its in-house capabilities; currently, 75 per cent of its equipment requirement is met in-house (gross assets at Rs 500 crore). The company will further spend about Rs 200-250 crore over the next year towards purchase of equipment. This will help cut costs and generate additional revenues by way of renting out to third parties.
That apart, Era also plans to increase its Ready Mix Concrete (RMC) capacity 10-fold by installing about 50 new RMC plants over the next 2-3 years, at an estimated cost of Rs 350-400 crore. About 90 per cent of the new RMC production will be sold to third parties. Expect this business to contribute a large chunk to revenues.
Given its in-house equipment and RMC facilities, Era enjoys healthy operating margins of about 20 per cent and RoNW (return on net-worth) of 30 per cent, among the best in the industry. The company's core business is growing at robust pace, which along with the strong order book and investments will drive growth.
Sadbhav Engineering
Sadbhav Engineering, with a focus on the road segment, would be a key beneficiary of the ongoing investments in this segment. Of the company's current order book of Rs 2,300 crore, road projects account for over 70 per cent, including 32 per cent from BOT projects. Enhanced focus on BOT projects has seen the company win four BOT road projects in consortium with other players over the last six months; Sadhbav's equity contribution is pegged at Rs 92 crore. Going forward, the BOT projects are expected to contribute significantly to revenues as the company has achieved financial closure of Aurangabad-Jalna and Nagpur-Shinoi project during Q3FY08. It expects the Mumbai-Nasik expressway project to achieve closure by December 2008.
From Q4FY08 onwards, its projects in the relatively higher margin mining segment (9 per cent net margin) would be a positive trigger, and will help in improving its bottom line. The revenue will accrue from its ongoing project with GHCL and the recent Rs 245.24 crore order from the Northern Coalfields. Sadbhav Engineering currently has 15 per cent of its current order book from mining. However, the mix is expected to go up as domestic companies are allotted more mines and thus, reflects huge potential for excavation work.
Considering its current order book, which is over three times its FY08 estimated revenue, the company is expected to maintain revenue growth of over 50 per cent for the next two years. Also, with the increasing share of mining and the captive resources, the operating margins are expected to improve from 11.9 per cent in the FY07 to 12.5 per cent in FY08 and 13 per cent in FY09. The expansion in margins will also lead to the higher earnings growth. While these positives are partly reflecting in the higher valuations, the stock has good potential.
Pratibha Industries
Pratibha Industries is emerging from being a small player handling projects with an average size of Rs 10-20 crore to a bigger player. The most recent order bagged by the company is as big as Rs 300 crore. The company, which was primarily into the water projects (about 70 per cent), has diversified into other construction segments such as industrial projects, roads, urban infrastructure, airports, railways, pipeline and tunneling. The company has a strong focus and expertise in handling water-related projects, accounting for 60 per cent of its total order book.
Further, to grab the growing opportunities in the water segment, micro tunneling and piping projects, the company has formed a JV with Ostu Stettin of Austria, the world's third largest tunneling company. It will help getting complex projects involving tunneling for laying pipes in high density urban areas for underground tunneling.
Besides, the company is also integrating backwards into manufacturing of SAW spiral pipes, with a capacity of 90,000 tonnes per annum. These pipes will be used for captive consumption as well as commercial sales to other companies for use in water transmission, oil and gas, sewerage and other industrial usage.
Within construction, the company has also diversified into some of the high potential segments, having undertaken (either independently or jointly) construction of complexes, buildings, airports and roads.
A strong order book of almost 4.5 times its FY08 estimated revenue and better outlook for urban infrastructure and water-related projects, indicates a robust future for the company. Besides, growth would be driven by the increasing revenue share of pipe manufacturing business in FY09. According to estimates, the SAW pipe segment alone can add about Rs 240 crore of revenue in FY09 at 60 per cent capacity. Overall, the stock is attractive from a long-term perspective.
Ahluwalia Contracts
Ahluwalia Contracts, primarily into construction of residential and commercial projects, is now diversifying into the urban infrastructure space. Although urban infrastructure still contributes just 3 per cent of its revenues, the company plans to increase its share to 20-25 per cent over the next three years.
On these lines, the company will bid for select BOT projects, especially multi-level car parking and bus terminus. The company has already been awarded a BOT project in Rajasthan for constructing a bus terminus, which also includes a commercial complex, wherein the targeted IRR (internal rate of return) is a sound 20 per cent. There is huge opportunity in the multi-level car parking segment, as over 30 projects are likely to be awarded in Delhi alone.
The company being an established player in the National Capital Region (NCR) is expected to gain from the residential and commercial projects consequent to the 2010 Commonwealth Games, to be held in Delhi and also the all round infrastructural development in the NCR region. It has already won some of these projects, including the recently bagged Rs 688 crore Commonwealth Games 2010 village residential project.
Considering its growth plans and projects in hand, the company is incurring a capital expenditure of around Rs 55 crore in FY08 and Rs 110 crore in FY09. This will also include the expansion of its RMC capacity from 210 cubic meter per hour currently to 300 cubic meter per hour in FY09. The RMC division, which contributed over 18 per cent to revenues in FY07 (Rs 81.40 crore), should see its revenues grow at a healthy pace over the next two years.
The healthy order book (3.24 times of FY08 estimated revenues) provides earnings visibility over next two years. Over the long-term, growth will be aided by the company's diversification.
Tantia Construction
North East and eastern India are considered to be underdeveloped. Investments are required towards construction of roads, ports, power and other infrastructure facilities. The Centre has already indicated that it intends to spend Rs 50,000 crore towards construction of roads and another Rs 2,000 crore for rail connectivity in the North-East over the next five years.
Tantia, which generates about 96 per cent of its revenue from the eastern and north eastern region by undertaking roads and railway projects, will be the key beneficiary.
To further capitalise on this, the company is foraying into other segments of infrastructure and BOT projects. Its relatively smaller size and limited presence is reflecting in the lower valuation it enjoys vis-à-vis its peers, which should hopefully correct as the market gains confidence in the company. What is currently playing in its favour are opportunities and relatively less competition in the North East.
Considering the industry outlook and healthy order book to be executed over the next 30 months, the company may maintain revenue growth of over 50 per cent in the next two years.
Gayatri Projects
In a recent development, Gayatri Projects signed an MoU with DLF to jointly undertake construction of road projects on BOT basis. The new entity will leverage the capabilities of the two companies and, is expected to develop projects worth over Rs 1,000 crore every year. The tie-up with DLF is also expected to provide Gayatri Projects an entry into the real estate business; it would be developing properties along with DLF. Gayatri Projects is a focused player in the construction of roads and irrigation segment, which account for about 98 per cent of its order book. The company is now venturing into urban infrastructure and the water treatment segments, which will not only help diversify revenue streams but also improve margins; these are already high at over 15 per cent compared with the industry average. That's because, the company owns nearly 100 per cent of the project related equipments.
Apart from constructing infrastructure, like other companies, the company is looking at capitalising on the growing opportunities in the BOT segment. It currently has five BOT road projects, which have already achieved financial closure. Of this, revenue from three projects is expected to start flowing from March 2010. Analysts value the BOT projects at Rs 120-170 per share, based on the discounted cash flow method. The BOT projects will provide a sustainable or steady cash flow in the long run and help in improving its profitability on the back of higher margins.
Given the high opportunities in the infrastructure sector and diversification into other geographies and segments, the cash contract (non-BOT) business will continue to grow at a robust rate, over the longer term. For the next two years though, earnings will grow on a sustainable basis, backed by the strong order book of Rs 3,400 crore (almost 4.5 times its FY08 estimated revenue) executable over the next 30 months. At current price levels, the stock is trading at a relatively lower valuation, compared with its peers and, is capable of delivering good returns.
Bigger the better
Bigger companies score heavily on size, services portfolio, strong execution capabilities and have a proven track record, all of which provide great comfort and hence justify premium valuations.
IVRCL Infrastructures & Projects
The increasing allocation towards water-related projects augurs well for IVRCL, which generates 57 per cent of its revenue from it. Besides, IVRCL is also present in other growing segments such as roads, building & structures and power. Its order book of Rs 11,000 crore provides strong revenue visibility. Analyst value the company at Rs 550-650 per share on a sum-of-parts valuation of its different businesses and investments in subsidiaries like Hindustan Dorr Oliver and IVR Prime.
Hindustan Construction Company
A dominant player in transport segment, Hindustan Construction is now focusing more on profitable segments such as water and power. Of its order book of Rs 9,050 crore, power projects accounts for 44 per cent and water projects 22 per cent. This diversification will not only help it grow faster but also improve margins. Long-term growth will be aided by improving revenue mix, strong order book and its real estate business (12,500 acre Lavasa project, valued at Rs 60-100 per share. On a sum-of-parts basis, analysts value its share between Rs 210-260.
Nagarjuna Construction
Nagarjuna Construction has been growing at 58 per cent annually over the last four years and is expected to grow at about 40-45 per cent during FY08-10. The growth will be driven by robust order book coupled with expansion of volumes and margins, led by diversification into segments like metal, oil & gas and real estate development. Nagarjuna is investing in BOT projects; has five road projects, two hydro power and two sea port projects. Its businesses are valued at Rs 315-395 per share.
Punj Lloyd
After acquiring Singapore-based Sembawang in FY07, Punj Lloyd tapped the growing global energy market with extended services portfolio. In the domestic market, it has forayed into onshore drilling, real estate and ship building business with 25.1 per cent stake in Pipavav Shipyard. Its consolidated order book of Rs 18,500 crore, provides reasonable comfort. Going forward, net profit is expected to grow faster on the back of turnaround of Sembawang; consolidated operating margins are expected to improve to 10 per cent by FY09 (8 per cent in FY07).
Source: Jitendra Kumar Gupta : business-standard.com
Kapsch Metro JV has commissioned the Delhi Gurgaon Expressway with 3 Toll Plazas with a total of 59 toll lanes. The largest toll plaza has a total of 32 + 4 reversible toll lanes.
The Project has a total of 24 ETC with some of them mixed type with cash and smart card facility ; the remaining being cash and smart Card type.
All lanes are equipped with Automatic vehicle classification systems . All the three plazas are interconnected through a WAN.
The First Kapsch Toll System In India Finalized: Toll System For One Of The Most Frequented Highways Is Up And Running.


Since End of January 2008 runs the operation of the first road toll project of Kapsch TrafficCom AG in India with no problems. Within a joint venture structure – the Kapsch Metro Joint Venture – Kapsch TrafficCom alongside the Indian Metro Road Systems Ltd. fitted one section of the National Highway No. 8 with a modern manual/electronic toll system. This highway covers the route from Delhi to Gurgaon and is one of the most frequented roads in the region. The central toll plaza with altogether 32 toll lanes is one of the largest toll stations in all of Asia.
Since January 2008, the road from Delhi to Gurgaon features a modern manual/electronic toll system based on microwave technology (CEN 278). Completion of this toll system marks the successful finalization of the first road toll project of Kapsch TrafficCom in India. The principal, licensee DS Constructions Ltd., decided to award the contract to the Kapsch Metro Joint Venture in September 2006.
"For us, the selection of KapschMetro JV as a technology partner was an important step in the management of the traffic volumes on the project. The technology selected is stable, secure and has processed over 3 million transactions to date with no problems. The installation of the equipment was done in difficult circumstances with live traffic of over 130,000 per day travelling through the lanes during the installation period. The equipment implementation of the Delhi-Gurgaon toll project is a success story, Kapsch Metro JV delivered the project on schedule and to our complete satisfaction", explains Allan Le Roux, Chief Operations Officer- Tolling of DS Constructions Ltd.

"Kapsch has already performed successful projects in India in the past, contracting GSM-R work for Indian Railroads, the Indian national railway system. With this commission, we were able to enter the Indian toll system market within an extremely short time, owing our success largely to our staff's wealth of know-how and to the many years of experience we have in the Asian area. For me, the route that has now been completed is just the beginning of numerous further business ventures in Asia", says Erwin Toplak, Board Member of Kapsch TrafficCom AG.
The Toll Road project is constructed on a 20 year BOT basis and has a length of 27 km long and rates among the most heavily trafficked projects in the region and provides important connectivity to the Indira Gandhi International Airport of New Delhi and the "New Millennium City" Gurgaon which boasts as having one of the worlds biggest shopping malls! The three toll plazas on the project have a total of 56 toll lanes. The main toll plaza located on the Delhi Haryana Border has 32 toll lanes. Motorists are able to use cash or use a Smart Card in at all lanes except the 4 dedicated non stop lanes with exclusive payment via microwave TAGs.
Kapsch TrafficCom AG is a global provider of innovative road traffic telematic systems, products, and services. Kapsch TrafficCom develops and supplies electronic toll collection systems, in particular multi-lane free-flow (MLFF) systems, and is also able to act as the technical and commercial manager for operating these systems. Further, Kapsch TrafficCom offers traffic management solutions (with the focus on road safety and traffic control), electronic access control systems, and parking space management. Kapsch TrafficCom has established itself among the global market leaders for ETC systems with more than 140 installed toll systems in 30 countries in Europe, Australia, Latin America, the Asian/Pacific Area, and South Africa, which altogether feature more than eleven million transponders and about 11'000 fitted lanes. Kapsch TrafficCom is headquartered in Vienna, Austria, and has subsidiaries and representative offices in 18 countries.
Vienna on 27th March, 2008
For further information, please contact:
Brigitte Herdlicka
Public Relations & Sponsoring
Kapsch Group
Phone: +43 (0) 50 811 2705
1120 Vienna, Wagenseilgasse 1
E-Mail: [email protected]
www.kapschtraffic.com
www.kapsch.net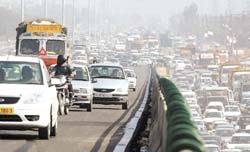 You may not be able to make that superfast dash to Gurgaon on January 1 after all. And even afterwards, the drive won't be as easy as you may imagine — not for a while at least.
"We may miss the December 31 deadline by two-three days," RP Indoria, chief project director of the National Highways Authority of India (NHAI) said, contradicting reported comments by a senior colleague. Even then, the Hero Honda crossing underpass and Kapasehra flyover won't be ready, and the terrible traffic bottlenecks will stay.
Nor will the Expressway fulfil all the essential requirements of a high-speed corridor — such as median fencing, foot-overbridges, and service lanes for local traffic. Work on toll plazas and signages looks far from nearing completion.
Indoria said NHAI aimed to provide "relief to harried and harassed commuters", but seemed to suggest its focus was on VIPs. "We might open the Rao Tula Ram Marg-Palam flyover and domestic airport loop in the first week of January… Since RTR-Palam flyover and loop is used by VVIPs we would like to ensure all safety measures before we open these," he said.
All of which indicates the hyped-up "throwing open" of the Expressway could turn out to be only a technical opening of a certain stretch, with little change in the commuter's actual experience.
Source: hindustantimes.com
National highways in India have seen a dramatic improvement over the last decade. Improvements are more evident in shorter stretches. For instance, Jaipur, Chandigarh and Agra are now well-connected with Delhi. Similarly, the highway that connects Mumbai with Pune can easily compare with the best anywhere in the world. This is true of many other national highways connecting major cities in southern and eastern India.
Many of these roads can be used only on payment of toll charges. Going by the available statistics on toll collections, these roads have become the preferred option for motorists and even heavy vehicle drivers. In fact, the toll charges are quite low compared to the benefits they offer to the road users. There is a clear case for raising these toll charges so that the maintenance of the roads can be ensured without any funds constraint. Not surprisingly, the National Highway Authority of India is planning to build more such toll roads connecting different cities across the country.
Yet, better highways have not led to a reduction in the total travelling time. This is ironical. If you are travelling from Jaipur to Delhi, you will take at least 45 minutes to an hour to cover a distance of about 10 kilometres within the city before reaching the national highway. Once on the highway, the journey is smooth and fast with about 250 kilometres being covered in about three and a half hours. The problem starts again once you are about to enter the city of Delhi. And depending on your final destination point, this might mean an additional travel time of a couple of hours. It is the same story if you were to travel by road from Chandigarh to Delhi.
So, national highways have made driving easy once you get out of the city. But to reach a destination, you need to travel through the city. And the bottleneck is at the entry point of the city. Nothing much has been done in any of these cities to decongest the arterial access roads. The city of Delhi may have seen more flyovers in the last few years, but the impact has been marginal because the growth in the vehicular population in the city has also been phenomenal.
Airlines should have gained from this increasing vehicular congestion at the entry points of all cities. But pause for a moment to reflect on what is happening to airport congestions in almost all the major cities, you will notice a virtual re-run of what has already happened to Indian highways. The flying time between Delhi and Mumbai is only about an hour and a half. But the wait on the tarmac (in addition to the early check-in requirements because of security reasons) before the aircraft can take off is almost half an hour. There is another 30-45 minutes of hovering in the skies before the aircraft can actually land and you can be taken to the arrival terminal building. In effect, you end up waiting for almost the same time that you take to cover the actual distance. All this is due to airport congestion. Gone are the days when once you were airborne, you could confidently estimate the time by which you would be home. Consequently, there is little to choose between taking a Delhi-Chandigarh flight and travelling this sector by car.
In any other country, the railways should have benefited from this immensely. Since most railway stations are located in the heart of these cities, there is no long wait before one can reach the final point of destination. But the irony is that the Indian Railways has failed to take full advantage of this situation. The Shatabdi trains that run on these sectors could have easily become a preferred option for those who fly or travel by road on such sectors. But the quality of service and an erratic punctuality record are major problems for the Indian Railways.
Things might change though in the next couple of years. Delhi, Mumbai, Hyderabad and Bangalore would get new or completely refurbished airports with a capacity to handle more passengers without causing congestion and delays. There might be more expressways connecting more cities. Even the Indian Railways is planning to launch faster trains to connect different cities in all the regions.
But the worries might still remain. India's infrastructure problems arise not just from its inability to create facilities with adequate capacity. Equally frustrating is the failure of most managers of these infrastructure projects to identify the last-mile problems and fix them before they become unmanageable. Even the country's best-managed infrastructure project, Delhi Metro Rail Corporation, is not free from this malaise. And the solution does not lie with these individual project managers. There is an urgent need for the civic authorities in each of these cities to move in tandem with the infrastructure project managers and create necessary facilities within the cities to resolve the last-mile problems and remove other bottlenecks so that the full benefits of these huge projects accrue to the people.
Source: business-standard.com
NEW DELHI/GURGAON: If you spend hours fretting and fuming while trying to get from Gurgaon to Delhi and vice versa, here's some good news. On December 31, all flyovers on the 27-km Gurgaon-Delhi expressway will be opened. That includes the one curving across the road to IGI airport, which means going to catch a flight would also become less of a pain.
National Highways Authority of India claimed this deadline is final — there will be no extension. Toll on this expressway — which will reduce Delhi-Gurgaon travel time to 15-20 minutes from the current hour-long agony — will not be charged right away. In fact, talks are still on to fix the toll amount as well as its modalities.
While the final toll amount will be announced shortly, indications are that it will be Rs 15-16 for the entire stretch, but 50% less for vehicles regularly commuting between Gurgaon and Delhi and the other way round. In other words, Gurgaon residents working in Delhi and Delhi residents working in Gurgaon would have to shell out Rs 7.50 or Rs 8 — possibly not such a high amount considering the convenience.
Two-wheelers, three-wheelers and all slow-moving traffic will not be allowed on the expressway. These will have to take the service lane adjacent to the expressway.
NHAI's member, technical, Nirmaljeet Singh said: "As of now all the flyovers except the one at Palam are operational. This too will be open before 2008." Said another official, "We have put the expansion joints and now curing is in progress. Just a few things remain to be done and they will be done in the year's last week when traffic will be less on certain days because of government holidays."
Singh added that the loop connecting to the domestic airport would be operational by the year-end. This means the current jam in the approach to the airport would ease up somewhat. It will fully clear up once the new domestic terminal being constructed between 1A and 1B is completed.
While toll tax on vehicles will be levied only after the independent consultant gives a satisfactory report of the working of the toll plazas, the one near Delhi is a state-of-the-art 32-lane plaza, designed for easy traffic flow.
Source: timesofindia.indiatimes.com