Commuters in Kolkata may soon travel on a non-linear ropeway – that has the potential to swing its way through the city's skyline dotted with high-rises – the makers, who tout it is the world's first of its kind, said after launching a prototype.
The private firm which has developed and patented this new pollution-free aerial transit – christened Curvo ropeway – is in talks with the West Bengal government to launch the service in two sectors as a second-tier urban transportation option.
Test-run of the prototype, with two cabins, was conducted within a stretch of 500 metres at a spot in Kolkata's Joka area recently.
The inventors are also applying for certification to open the prototype for the public.
"It is the world's first non-linear ropeway for alternative urban transportation. This will be a new-age transport system and add to the concept of smart cities. There are two proposals which we are discussing with the state government, regarding launching the service in Sealdah-B.B.D. Bag area and the other from Nabanna, the state secretariat," said Rachana Mukherjee, director, Conveyor and Ropeway Services Pvt. Ltd.
"In addition, we are applying for certification to open the prototype for the public," she said Saturday.
The ropeway service, to be run on electricity, will breeze over existing arterial and other roads on steel portal frames spaced at 90-100 metres supporting the ropes, avoiding the congestion on the streets below.
On any designated route, there will be elevated stops for deboarding and boarding of the passengers every 750 metres.
Proposed to run at 12.5 km per hour, the carrying capacity of the ropeway on a single track is pegged at 2,000 people per hour.
"On a double track, the capacity will be double. Cabins, with a capacity of eight to 10 seats, will be spaced at 22 to 25 seconds interval. The tariffs will be competitive keeping in mind the bus fares."
"It is definitely safe and will offer greater flexibility (with regard to destinations) than the metro," Mukherjee said, adding it is a completely indigenous technology.IANS
This will be a new-age transport system and add to the concept of smart cities
Source:The Hindu
LUCKNOW: Chief secretary Alok Ranjan has issued directions to start radio taxis in all municipal cities of the state in the next six months to provide better transport facilities to the general public.
Ranjan also said public work should be done online through e-governance to completely prohibit entry of commission agents.
He asked the officials to increase the number of counters in transport offices of bigger cities of the state so that the general public was not made to wait. Ranjan was reviewing the functioning of the public works department (PWD) and the transport department here.
He asked the PWD to get 75% financial approvals issued by September and cent per cent by December to complete the works with quality.
He also asked it to present a proposal for establishment of an engineering training institute in the state for training of engineers. As many as 402 habitations with a population of 500 or more in 12 districts must be linked with pucca roads by October under the Shri Ram Saran Das Sadak Yojana, he added.
The task of linking the district headquarters of Gautam Budh Nagar, Aligarh, Bulandshahr, Rae Bareli, Hamirpur, and Hathras with four lane roads should be completed by December, he said.
 The Times of India (Delhi)
kounteya.sinha
Govt Announces £10m Fund For Researchers Working On Project
The UK government on Wednesday gave the green light for driverless cars to roll out on public roads for testing from next year. Business secretary Vince Cable announced a £10 million fund for driverless car researchers."The excellence of our scientists and engineers has established the UK as a pioneer in the development of driverless vehicles through pilot projects," he said. "Today's announcement will see driverless cars take to our streets in less than six months, putting us at the forefront of this transformational technology." Three cities will be selected to host driverless car trials, with each test to last between 18 and 36 months starting in January 2015.Ministers have also launched a review to look at current road regulations to establish how the UK can remain at the forefront of driverless car technology and ensure there is an appropriate regime for testing such cars in the country. Two areas of driverless technology will be covered in the review: cars with a qualified driver who can take over control of the driverless vehicle and fully autonomous vehicles where there is no driver. "Driverless cars have huge potential to transform the UK's transport network -they could improve safety , reduce congestion and lower emissions, particularly CO2," said transport minister Claire Perry . "We are determined to ensure driverless cars can fulfil this potential." Science minister Greg Clark said UK was brilliantly placed to lead the world in driverless technology . "It combines our strengths in cars, satellites, big data and urban design," said Clark.
Currently , autonomous vehicles are only allowed on private roads, with the change in laws bringing UK in line with countries such as Japan, Singapore and Germany . In America, driverless cars have been tested on public roads for months, with Google's driverless cars racking up more than 300,000 miles in California alone.
Scientists from Oxford University are in advanced stages of testing the first driverless car on UK roads. The vehicle, a modified BAE Wildcat military jeep, will be programmed with a three-dimensional map of routes around Oxford. The robotic car uses a series of sensors, including cameras and lasers, to calculate its exact location. It can sense the presence of other vehicles on the road and take avoiding action if necessary , something that driverless cars equipped with GPS-based technology have been unable to do.
KHEL GAON MARG Over the years, this lazy stretch linking South Ex with Outer Ring Road has become one of south Delhi's busiest roads plagued with the usual traffic problems
NEW DELHI: It was one of the internal roads motorists would often take to avoid miles-long traffic snarls on Aurobindo Marg or on Josip Broz Tito Marg that houses the controversial bus rapid transit (BRT)corridor.
Over the last few years, August Kranti Marg or Khel Gaon Marg has transformed into a major arterial road with a large number of motorists living in south Delhi taking this road every day. Result: long queues of vehicles at traffic signals and frequent jams during rush hours.The drive on this five-kilometre stretch — from Outer Ring Road to South Extension — is just about 10 minutes during lean hours. The journey turns into a nightmare when people go back home after a gruelling day at work.And for people with houses on the main road – in places such as Uday Park, Niti Bagh, Anand Lok, Gulmohar Park and Mayfair Garden — the charm of living in tree-sequined lazy avenue is now lost amid the din of vehicles. Constant honking of vehicles and pollution has replaced the cool breeze and chirping of birds the residents enjoyed till a few years ago.
Thanks to the Delhi government's decision to reserve one lane on Josip Broz Tito Marg, between Moolchand Hospital and Ambedkar Nagar, exclusively for buses to implement the BRT system, a large volume of cars and bikers has now shifted to August Kranti Marg.
Bikers, cars and even buses now jostle for space every morning and evening, making driving a nightmare on this stretch. Motorists say the road does not have the capacity to handle such a huge rush of vehicles.
According to experts, traffic on August Kranti Marg has increased by at least 20-25 per cent in past 2-3 years.
"The government may have ensured a quick and smooth passage to bus commuters on the BRT but it is the motorists and the bikers who now suffer on both the BRT as well as this road," said Tanmay Sharma, a resident of Asiad Village.
"People use this road as an alternative route to BRT to reach their destinations fast but get stuck amid slow moving traffic, sometimes for up to one hour," he adds.
Motorists say problems on this stretch are plenty. With two big office complexes — HUDCO tower and the Siri Fort Institutional Area — shopping mall Ansal Plaza, lawns at Asiad Village complex that see frequent marriage functions, Siri Fort auditorium, a venue for film festivals and shows, and a number of residential colonies on either side, this road witnesses a huge volume of traffic every day.
"It is so difficult to take your car out of the office around 6pm. There is bumperto-bumper traffic. Since the road is narrow, the right turning traffic obstructs the vehicles going straight, resulting in chaos," said Peeyush Sharma, who works at PHD Chamber of Commerce.
The problem, say commuters, compounds during marriage seasons and when there is a concert or a show at the Siri Fort auditorium. When it rains, the motorists are in for a major trouble.
"Since the parking space is limited, people often park their vehicles on the main road itself, leading to chaos. Vehicles entering the parking lot or coming out of it also obstruct the smooth movement of vehicles," said Kamlesh Singh, a resident of village Shahpur Jat.
Motorists suggest that an underpass should be constructed near the Siri Fort auditorium and sports complex to ensure that vehicles going to these places do not obstruct the straight-moving traffic.
"
An underpass is need of the hour. I once visited Sirifort for my son's annual day function and had to park my car at Ansal Plaza as I was unable to get find a space there," said Kakoli Das, a resident of Vaishali.
Hindustan Times (Delhi)
Atul Mathur  
NEW DELHI: The Delhi government has decided to rope in Delhi Metro Rail Corporation to (DMRC) build and operate trams in the walled city.
Senior PWD engineers said DMRC had the technical expertise to run a modern mass transit system in the Capital and operate it successfully.
"We have written to the Delhi Metro that we will need its help to prepare the detailed project report and execute the project. We will prepare the ground for them," a senior PWD engineer said.
A DMRC spokesperson, however, said they were yet to receive any official communication.
Senior Delhi government officials said the decision to involve Delhi Metro in the project was taken in a meeting headed by Lieutenant Governor Najeeb Jung. Sources said the L-G is taking keen interest in the project and has put it on the fast lane.
Re-introducing trams is a part of Delhi government's ambitious Shahjahanabad re-development project to bring back the lost glory of the Walled City. Trams were a popular mode of public transport for almost 55 years between 1908 and 1963. The bigger plan is to have a tram network of about 20-kilometers in the walled city – as it did in the first half of the 20th century – with the government planning to run it on a three-kilometre route from Esplanade Road (near Red Fort crossing) to Sadar Bazar in first phase.
"To start with, we have started putting all external cables and wires underground from Fatehpuri to Esplanade Road. Once it is done we will take the second carriageway. We will also build 15-metre wide lane which will have the space for trams and pedestrians. The other side will have two carriageways for local traffic, non-motorised vehicles and emergency vehicles," a senior PWD engineer said.
Jayashree Nandi    New Delhi
DDA Delays Allotment Of Land
 Without public transport, Delhi may never be able to address its twin problems of air pollution and traffic congestion. But it has failed to meet its massive demand for buses simply because there aren't enough depots.Millennium Park Bus Depot where 800 buses are parked will be moved in the wake of a high court order to relocate it from Yamuna riverbed. Meanwhile, Delhi Integrated MultiModal Transit System doesn't have any parking space for 1,000 buses. Delhi Development Authority has not managed to allocate any land to them yet. After Aam Aadmi Party (AAP) came to power, the government decided in January to move the 50-acre Millennium Park depot to secure the Yamuna riverbed."It's a catchment area for water which cannot be meddled with," chief minister Arvind Kejriwal had said. But now delay in providing adequate space for buses by DDA has irked a section of environmentalists. Their stand is contrary to other activists who have been pushing for the relocation of Millennium Depot.
Environmentalist Sunita Narain feels bus depots should be prioritized over other issues. "The Millennium Bus De pot should not be shifted. A bus depot is needed; adverse impacts on the riverbed can be mitigated," she said. DDA has identified three places in Rohini Sector 4, Karkardooma and Institute of Driving Training and Research in Sarai Kale Khan. But relocation has been taking very long.
DTC officials claim that developing infrastructure in these three newly-allotted areas will mean massive investment in terms of both money and time.
Meanwhile, DIMTS has not been able to procure 1,000 air conditioned and non-air conditioned cluster buses as DDA hasn't allocated any land to them.
"They have been promising it but nothing has been handed to us even though buses should be a priority . It's time we should start looking at multilevel parking options for buses.
Delhi should also pay attention to safe infrastructure for bus stops and traffic calming measures near them," an official from DIMTS said.
DDA claims it doesn't have enough land for bus depots.
"Allocating land to DTC for relocating Millennium Depot is taking long as we have to change land use. As for more land for DIMTS, we can only look for small patches of land–not big ones," a senior DDA official said.
Anumita Roychowdhury of CSE's Clean Air Programme said, "It's a very serious problem. Delhi has to find a way to share depot space efficiently and develop infrastructure like some depots in Bangalore so that more buses can be accommodated in them. We also need to explore efficient parking structures," she said.
Madurai city, known as 'Temple City,' deserves to be modernised and developed into a 'smart' city. The Centre, which is planning to develop 100 cities into 'smart' cities, should include Madurai in this project, according to Madurai MP R. Gopalakrishnan.
In a release issued here recently, he said Madurai city, which had a mix of urban and rural areas, was considered as the gateway to the southern districts.
The city should be provided with modern infrastructure like metro rail, helicopter tourism facility, increased rail services with modern coaches among others.
To decongest roads, the Outer Ring Road work should be expedited on a war footing, he noted.
At a time when agriculture had been affected due to poor monsoon, there had been unemployment and large-scale migration of farm workers to Madurai.
The Union government had earmarked Rs.7,060 crore for developing 100 'smart' cities in the current budget.
If Madurai was included in the list, the unemployed workers could benefit from job opportunities that might be created in the future, he suggested.
Welcoming the allocation of Rs.100 crore towards transforming select employment offices into career centres, he urged the Centre to include Madurai employment office in the project on a pilot basis.
"Amma Unavagam" scheme implemented in Tamil Nadu was a success, and the Centre should take it across the country as it would benefit a large number of people.
When contacted, Mr. Gopalakrishnan said he had given his submission in writing in the current session of Parliament under Rule 377 of the Lok Sabha.
Source:The Hindu
VISHAL KANT 
Of the DTC's fleet of about 5,000 buses, about 1,300 are old standard-floor buses, which need to be replaced immediately.— File Photo: V.V. Krishnan
An allotment of Rs.3,702 crore has been made
Though the transport sector was the biggest gainer in terms of share at 20.91 per cent in the planned expenditure of the Delhi Budget for the current fiscal, the financial statement tabled in Parliament refrained from making any new major announcements in the sector.
With an allotment of Rs.3,702 crore for the transport sector, the State government aims at constructing new flyovers and doubling single carriageway flyovers.
It has also made provisions for extension of the Barapullah project to Mayur Vihar, an automated fare collection system through electronic ticketing machines and card readers in Delhi Transport Corporation buses and modernisation of two Inter-State Bus Terminals (ISBT), among others. Some of the announcements, however, are a repeat of last year's Budget announcements by former Chief Minister Sheila Dikshit.
"Road transport is still the preferred mode of public transport in Delhi. However, of a total fleet of about 5,000 buses, about 1,300 are old standard floor buses with DTC fleet, which need to be replaced immediately. In order to provide better transport to the commuters, tenders have been floated for procurement of 1,380 semi-low floor buses for the DTC," Union Finance Minister Arun Jaitley said.
"To make available more buses to the commuters, private sector corporate operators will add 400 new cluster [scheme] buses, making a fleet of about 1,600 cluster buses during this financial year."
During the last Budget, the government had planned to procure 625 low floor and 1,380 semi low-floor buses. The city requires 11,000 buses in order to cater to around 45 lakh commuters on a daily basis. However, only around 6,400 buses are in service at present. While the DTC operates around 5,000 buses, the rest operate under the cluster scheme.
While the DTC has been making efforts to replace the entire fleet of standard floor buses over the last two to three years, private authorities have failed to induct a majority of the 6,600 buses that were originally planned to be launched under the cluster scheme. The authorities have successively blamed lack of bus depot as the primary reason for the delay.
Taking the monorail dream forward, the budget has allotted Rs.10 crore for the project, the first phase of which would come in the Trans-Yamuna area. The same amount has also been sanctioned for procurement of feeder buses for the Delhi Metro.
Apart from modernising the regional offices of the Transport Department, the Budget announced developing the ISBTs at Sarai Kale Khan and Anand Vihar, which are currently functioning without suitable infrastructure. However, the initiative also found mention in the Budget proposals last year. While Ms. Dikshit had announced that renovation work at the two ISBTs would begin during the last fiscal itself, it is yet to start.
Source- http://www.thehindu.com/
TNN |
NEW DELHI: With Delhi being ranked the most polluted and populous city in the world by international organizations, urban planning experts say there is a need to promote sustainable public transport in the capital. After the success of Raahgiri Day on Sunday, civil society members say the government should focus on creating infrastructure for pedestrians and cyclists.
"There is a need to bring down dependence on motorized vehicles. We need to encourage people to walk and cycle. This is possible only if we provide them the right infrastructure," said Amit Bhatt, head of transport at Embarq India, a civil society group.
Raahgiri Day was organized at Connaught Place on Sunday by New Delhi Municipal Council, along with Embarq India, and supported by The Times of India.
Though the government has taken several initiatives to promote use of public transport, little work has been done on the ground. The Delhi Development Authority's transit oriented development (TOD) policy is yet to be implemented. "TOD is a great concept and will bring down dependence on private vehicles as the government plans to set up high-density residential and commercial units around mass transit corridors like the Metro," said Bhatt, whose organization has been pushing for sustainable public transport.
According to a Delhi Development Authority official, "We are in the process of drafting the policy. It will be placed before a panel of experts for review before it is approved by the authority. It will be then sent to the Union urban development ministry."
Events like Raahgiri, Bhatt says, are just a step towards creating awareness about sustainable public transport and encourage people to lead a healthy lifestyle. "Through Raahgiri we want promote cycling and walking. We are looking at a shift from private to public transport. For this, the government needs to provide infrastructure."
In Gurgaon, Raahgiri was originally organized on a 4-km long stretch but the event is now being held on a 15-km long stretch. "The civic agency is now maintaining stretches where the event is held. If people start walking and cycling, the agencies will have no option but to provide infrastructure," he said.
Written by Sandali Tiwari | New Delhi |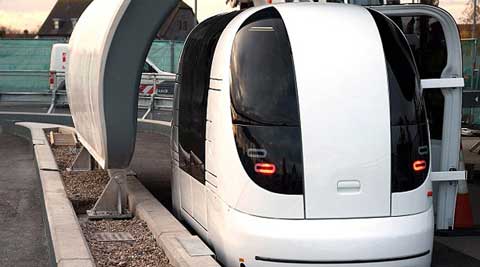 The proposed fare for the service would be about Rs 6 per km, which is half the fare of local taxis and less than the fare charged by auto-rickshaws.
SUMMARY
Pod taxi is a public transport featuring small automated vehicles operating along a network of guideways.
The Haryana government is seeking to revive a plan to start a hi-tech pod taxi service to end harassment of commuters at the hands of errant auto-rickshaw drivers.
The move comes four years after Chief Minister Bhupinder Singh Hooda first launched the plan in 2010 and just two months before the city and rest of the state get ready for Assembly elections to elect a new government.
"The chief minister has asked the commissioner of the Municipal Corporation of Gurgaon (MCG) to revive the plan after looking at a previous report listing the hindrances in the way of the project," an MCG official said.
According to the official, that report was submitted at least three years ago. "A lot has changed since then. High-rises and several other buildings have come up, changing the ground situation. So, we will be working on the plan afresh to take it forward," the official said.
Pod taxi, also known as Personal Rapid Transit (PRT) or Personal Automated Transport (PAT), is a mode of public transport featuring small automated vehicles operating along a network of specially built guideways. Promising to take up the project on a priority basis, MCG Commissioner Praveen Kumar said, "If the plan works out, the pod taxi service will offer an environment-friendly transport system in Gurgaon."
The proposed project would be completed in three phases. The project corridor, with 143 stations en route, would be 105 km long and pass through National Highway-8 and Iffco Chowk. The proposed fare for the service would be about Rs 6 per km, which is half the fare of local taxis and less than the fare charged by auto-rickshaws.
On an average, the PRT can ferry 6.23 lakh passengers daily.
Source- http://indianexpress.com/