Express News Service | New Delhi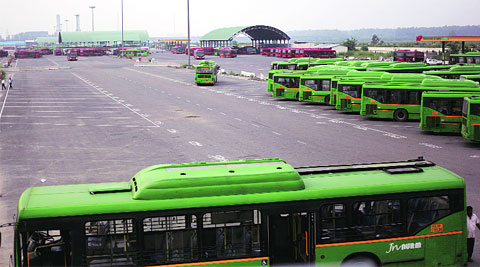 The depot was built on the Yamuna riverbed. EXPRESS
SUMMARY
DDA has identified sites in Rohini, sarai kale khan & Karkari more for shifting the depot.
Nearly six weeks after the Delhi Development Authority (DDA) informed the Delhi High Court that the sites for relocating the Millennium bus depot had been finalised, the Delhi Transport Corporation (DTC) on Monday told the court that it had not been handed over physical possession of the land.
In a status report filed before the court of Justice V K Shali on Monday, the DTC said it had only been given a "paper titled as working permission on the land without the demarcation, allotment or physical possession of the said site in question".
Giving details of the three sites proposed by the DDA, the DTC has said that due to lack of clearances, change in land use and the demarcation and actual physical possession of the land, the work at the sites would take time to begin.
The DDA, in an affidavit filed in May, had identified sites in Rohini, Sarai Kale Khan and Karkari More to shift the 1,000 buses and other equipment presently housed at the depot, which was built on the Yamuna riverbed. The High Court had directed the DTC to shift the depot from its current site within nine months.
The transport corporation has also alleged that the land that has been indicated for the depot in Rohini does not have any access road. "The land required for building the road leading to the site in question is today under the possession of the DSIIDC. Thus till date, the DTC does not have any approach to the proposed site," says the report filed through DTC counsel Sumeet Pushkarna. Irked by the delay, the High Court has directed the DDA to hold a meeting within four weeks to "arrive at a settlement," regarding the land allotment.
Environmentalist Anand Arya had approached the High Court, seeking contempt of court action against the Delhi government for failing to remove the Millennium bus depot within the period granted by the court in a previously decided case. The environmentalist in his plea had said that the construction was against the Delhi master plan and zonal plan for the river.
Source-http://indianexpress.com/