Meet AP Hota, MD&CEO, National Payments Corporation of India (NPCI), the man overseeing the setting up of a nationwide payment infrastructure that will enable barrier-free tolling. Over the last five years, NPCI has travelled a fair distance itself, starting from a single service of switching of inter-bank ATM transactions. Today, the range of services has grown to cheque clearing, immediate payments, automated clearing house, electronic benefit transfer and a domestic card payment network named RuPay. Its long-term goals are to get every Indian to start making digital transactions in every sphere of life, reducing their dependency on ATMs.
Excerpts from an interview:
What is the relevance of NPCI to infrastructure?
NPCI falls into the category of financial market infrastructure. Our infrastructure is not visible to the naked eye. The financial market infrastructure, however, is huge. Within this, NPCI plays the role of a utility. We are like a utility to the banks wherein we facilitate over 20 million transactions daily.
Surely, such volumes require a robust data connectivity network?
Yes, the most important challenge is the telecommunication and data networks that we face in our work to connect banks and to connect people. While all the major banks are already connected, there are banks in the remote areas that cannot connect because the data grid technologies are not in place. There is an attempt to make mobile banking available and pervasive. However, only the short-message service (SMS) and call services are available throughout the country, not the data grid services. This is where the government's optic fiber network, whenever it gets rolled out, will be useful since only then, financial services will be able to ride on that network.
Moreover, in financial services, we need 24*7 power. This is why companies are shifting their data centres to Hyderabad because, possibly, the availability of power there is much better. For instance, beyond Vashi in Navi Mumbai, uninterrupted power is not available. This is why nobody wants to put up their data centres close to Mumbai because if they do that, their data centres will have to run on diesel generators and that will be much more expensive. Chennai, Bengaluru and Hyderabad are preferable destinations in comparison.
Even where you do have connectivity, India ranks pretty low on speed and quality of connection. Comment.
This is true. Even when someone is expected in our office, and we need to provide a demo, we have to be very careful to see that the mobile network is really working properly! Since connectivity is a problem, we may have to go to certain corners or areas where the signals are stronger to get the link. This is the scenario in a city like Mumbai in the middle of its new financial hub. Nonetheless, it is improving and there hasn't been a serious issue that has affected any transaction in the real world. However, if we want to integrate the whole country with a digital payment system, the optic fiber network is something we will have to look at for this purpose. A great thrust is coming on our payments system on mobile devices.
How are you dealing with this?
The challenge is with respect to the data network. There are quite a few dark spots in the country where there is zero connectivity. There is no mobile connectivity even. We have come out with a solution which is that we use the USSD-based financial transaction. This stands for unstructured supplementary service data and it means that wherever the voice grid link is available, USSD also works. This channel is not a data channel but almost like a voice grid channel but on which messages can travel. It is possible at least for the GSM (Global System for Mobile Communications) phones. USSD is a capability built into the GSM standard. This is already in operation with almost a million transactions daily but for such a large country, a million transactions are also hardly anything!
Are you involved in the e-tolling project for setting up the clearing house?
The National Highways Authority of India (NHAI) has given us the responsibility to build the clearing house for e-tolling. In this system, we are envisaging a barrier-free tolling system. For this, at the back-end, the money transaction will happen through us.
Sometime back too, this had been envisaged. What happened?
What had happened then was that some toll booths were given to ICICI Bank and Axis Bank. ICICI Bank made it operational in about 160 toll booths and issued about 300,000 cards or so. Many of them are not working right now. A particular area was also given to each of the banks and they were not allowed to infringe on each other's areas. Similarly, in the south, few areas were given to Axis Bank. However, Axis Bank did not start the project at all. ICICI Bank began but it was nominal. Now, however, there is a plan to make it inter-operable. In this new system, all banks will be able to issue cards. If this happens, and the data needs to go to different banks, there will have to be an interbank transaction. That will be done through the clearing house. We have started the work of building the clearing house. We are awaiting the Reserve Bank's approval of the clearing system as this is a payment system with multiple banks. We expect the time-line to be around July or August. Initially, around 300 toll booths would start this off. It is already there in 160 booths by ICICI as mentioned earlier but they will have to slightly revamp their process to align with the new system. The toll booths have already been told to ready themselves along the Golden Quadrilateral, to start with. This can then be taken forward on the state highways.
Initially, they have mandated only one lane on each side. Gradually, they will increase this as and when the cards are issued in bigger numbers. The numbers of electronic toll collection (ETC) lanes will also go up simultaneously. In two-three years from now, most of the lanes will be ETC lanes. The cards will be sold mostly through the toll booths.
Do the cards issued by banks need to be displayed or would it be done via the license plates?
It will be an RFID card, and not with the license plate.
In the future, do we have to display these cards as a norm?
Yes, because one could probably tamper with number plates leading to problems in reconciliation. Moreover, all new cars released to the market also carry a chip with certain functionalities that can be leveraged. However, we are not adopting this like in many other countries. I do not know if the cars in India have this device with an RFID tag but nonetheless, the majority of the cars out there today are old cars. They would not be having this device so it is better to go for the card system issued by banks.
What are the new products that you are bringing to the market?
Quite a few, actually. One of them is the unified payments interface (UPI) which is an improvement over the current real-time money transfer. Sending money in real-time 24*7 via any channel was already there. Now, we have improved it by making it real-time collect. Earlier, it was only real-time sending. Also, earlier, for sending money, you needed the bank account number and other details. Now, I can just ask you a financial address. Suppose I want to send money to you and you have already registered under the new system, say – karan@hdfc – I can send money to this address. HDFC Bank will translate this to make the deposit in the appropriate account. So, the financial address is email-like.
The second product that we expect to introduce by the end of June is the bill payments infrastructure. Currently, we pay most of our utility bills mostly in cash or cheque. Therefore, we are setting up a national level bill payments infrastructure.
The third product is the e-tolling that I talked about earlier. The fourth product is tap-and-go payment. We are trying this out in Bengaluru with the public bus commute system. People can just tap a device and walk into the bus and tap it again before dismounting. These systems were tried earlier in different cities but they were not scalable. Now, there is a national specification and these would be rolled out based on some common standards. In fact, the name already proposed by the Honourable Urban Development Minister Venkaiah Naidu for this card is the National Common Mobility Card. This is proposed to work for buses, trains, taxis and even the metro. Hopefully, our project will begin in Bengaluru soon, followed by Kochi Metro which will be a full-fledged roll-out. In Bengaluru, the card will be issued by only Axis Bank but in Kochi, there will be multiple cards.
We also have a plan for coming out with RUPay credit cards.
What is your vision and your long-term targets?
People should be primarily transacting digitally, for every need, not relying on ATMs all the time. The banks are the custodians of people's money as well as the prepaid issuers and we aim to facilitate their transactions. If people transact digitally, there will be less movement of cash and consequently, less printing of cash. The government will therefore, save a significant amount of money. The Reserve Bank of India is supportive of our initiatives and the government is also extremely enthusiastic about it.
Driving long distance on India's national highways may no longer be a taxing affair with the government planning to provide amenities such as washrooms, drinking water and multi-utility shops every 25 km. (HT File Photo)
Planning an inter-city road trip but anxious about the absence of basic facilities along the road?
Driving long distance on India's national highways may no longer be a taxing affair with the government planning to provide amenities such as washrooms, drinking water and multi-utility shops every 25 km.
A larger complex of services — rest areas for drivers, washrooms, bathing areas, restaurants, big multi-utility shops and adequate parking facilities — will be built every 50 kilometres.
The road transport ministry has unveiled a draft policy to standardise highway wayside amenities that are scarce and unevenly distributed, unlike other countries that have a uniform standard of facilities.
"In some highway stretches you have good restaurants and washrooms but in many stretches you have skeletal facilities. In some others, especially remote areas, wayside amenities are non-existent. So we decided to come out with a policy that has set uniform standard," said an official.
The highways ministry will invite private players to build,operate and maintain the facilities for a fixed number of years. "We are exploring various modes of developing such facilities and augmenting the existing facilities," another ministry official added.
On Friday while launching the Rs 30,000 crore Sethu Bharatam programme that envisages building new bridges and overhauling old ones, Prime Minister Narendra Modi also spoke about the emphasis on providing quality wayside amenities to highway commuters.
"We will soon hold a meeting with all stakeholders including private developers to get their views on the draft policy," said a ministry official.
The ministry is exploring various modes of developing these services. These include development, operations and maintenance on a public-private partnership mode, where private developers would be given land to build and run such a facility for 15-20 year concession period.
For highway stretches that are not financially viable, the ministry is ready to try out the EPC(Engineering Procurement contract) mode where the government provides 100% funding for building the wayside amenities.
The ministry is also looking at incentivising petrol or diesel retail outlet owners on national highways for upgrading the quality of basic toilet-cum-drinking water facilities being provided.
Sources: Hindustan Times
In order to address the rising vehicle congestion in the country, Union Minister Nitin Gadkari has announced that the national highway cover will be increased from the current 96,000 kilometres to 2 lakh kilometres. He said that a formula has been devised based on vehicular traffic movement, according to which four-lane, six-lane and express highways will be developed.
Gadkari said, "At present, we have 96,000km national highways or 52 lakh km road length in the country. As much as 40 per cent of the traffic moves on these 2 per cent national highways and as a result, five lakh accidents take place."
"Three lakh people get injured and 1.5 lakh are killed in these accidents. The main reason is traffic congestion. Therefore, to save lives of people and diversify traffic, our Government has decided to extend national highways from 96,000 km to two lakh km. Nearly 70 per cent to 80 per cent traffic of the country move on this," he further added.
He also said that in the state of Uttar Pradesh, the total length of national highways was 8,483km of which 4,500km was with the National Highway Authority of India (NHAI) and 3,134km was with state Public Works Department. "In the next two months, we have decided to expand this 8,483km to 17,000km which is double. Few proposals have been submitted by the state government and others by MPs and MLAs."
Additionally, two new highways will be developed in Uttar Pradesh. "First is east-west highway on which we are going to spend Rs 1,400 crore. This will reduce Delhi's traffic by 50 per cent. The second one is from Delhi to Dasna, which would be 14-lane, a first time in the country," he said. Gadkari mentioned that while earlier it took around 2-3 hours to travel from Delhi to Meerut, it will now take only 40 minutes
An access control highway connecting Lucknow to Kanpur has also been planned, which would reduce travel time between the two cities to 40 minutes. Gadkari said that 10 projects are likely to be awarded in the next three months with an investment of Rs 4,000 crore each.
Sources:Overdrive.in
In what may come as a major relief for the highway sector, the Reserve Bank of India (RBI) is expected to allow banks and financial institutions to lend o companies even if a project turns into a non-performing asset.
Sources said the indication came during a meeting between governor Raghuram Rajan and NHAI chairman in Mumbai. The RBI governor told Chandra that the central bank has come out with a circular, clarifying that a project becoming NPA will not result in choking of fund flow and it will not translate into lenders stopping loans, sources added. "We were told hat when any investment becomes NPA, the financial institutions have to provide additional funds for this. They need to deal with such project carefully rather than stopping release of loan. They will provide us this circular," said an NHAI official.
 A loan is classified as an NPA if a borrower fails to pay installments for 90 days. "Usually highway projects become NPA for a certain period. As toll revenue starts flowing or vehicle flow increases, the project becomes viable," said an official.
Although Chandra also took up the issue of priority sector status for highway projects with Rajan, RBI has said that too many sectors are now seeking this status.
Source: Times Of India
All India Radio (AIR) will soon provide live traffic updates for commuters to help them plan their journey via National Highways. The Minister of State for Road Transport and Highways, Pon Radhakrishnan told Lok Sabha in a written reply that the Highway Advisory service will be launched on a pilot basis soon and can also be replicated all over India.
"Highway Advisory services is going to launched shortly on a pilot basis on the stretch of National Highway 8, between Delhi and Jaipur, in three phases," he said.
AIR stations located in Delhi, Alwar and Jaipur will broadcast the live updates in the first phase and 22 bulletins will be issued every day for three months.
The bulletins will include safety awareness content along with live traffic updates on NH-8, details of heavy traffic on particular spots and vehicle breakdowns on the carriageway and service lanes, if any.
This step is being taken because of an increased numbers of complaints regarding traffic jams on NH-8. The ministry will get regular traffic updates from Millennium City Expressways Private Limited (MCEPL) and air them on radio. MCEPL will monitor the expressway through CCTV cameras and patrolling vehicles. According to reports, a dry run for the broadcast has already started and the programme will be officially launched soon.
Sources: The Better India
Strong interest has been reported in a major highway project in India. PNC Infratech, Sadbhav Infrastructure, Ashoka Buildcon, and APCO Infratech have all been bidding to win the Meerut-Bulandshahr highway project. This is worth some US$105 million and involves the construction of a 62km highway link. The project will be carried out under the hybrid annuity model (HAM), with the builder and Indian Government splitting the construction cost 60:40. Under the HAM model, the Indian Government also has plans for 19 more national highway projects that will involve the construction of 1,300km of highways.
Sources: World Highways
NEW DELHI: The Central Government is planning to build eight more world-class express highways in addition to already announced seven expressways.
The new expressways include Nagpur-Mumbai, Jaipur-Ajmer-Ahemadabad, Nagpur-Hyderabad, Pune-Hyderabad and Hyderabad-Bangalore.
Road Transport and Highways Minister Nitin Gadkari said that all express highways are going to be world class, matching the quality and specifications in advanced nations.
Sources: The New Indian Express
AP Chief Minister N Chandrababu Naidu explaining the progress of development works to Union Road Transport and Highways minister Nitin Gadkari (2nd right), Union Urban Development minister M Venkaiah Naidu (right) before laying the foundation stone for Kanaka Durga flyover in Vijayawada on Saturday. Vijayawada MP Kesineni Nani is also seen | P Ravindra Babu | EPS


VIJAYAWADA: Andhra Pradesh will get Rs 50,560 cr worth national highways (a total of 3,092 km in length) in addition to the Rs 15,000 cr worth NH projects already under progress in the state, with an assurance of more in the coming days.
This was announced by Union Minister for Road Transport Nitin Gadkari after laying the foundation stone for Kanka Durga Flyover to be constructed at an estimated cost of Rs 447.88 cr, along with upgradation of the Vijayawada-Machilipatnam section of NH 65, upgradation of NH 30 from Ibrahimpatnam Circle to Chandragudem and upgradation of NH 216 between Kathipudi and Kakinada.
Addressing a public gathering, Gadkari said roads are vital for development. He said when he took over the ministry, road construction was just 2 km a day which today is 18 km a day. He said that by March end he wanted it to be 30 km a day.
"In AP, Rs 15,000 cr worth projects are under progress this year and the state has many expectations from my department. I am now announcing new NH projects and it is for the state government which has to do the needed land acquisition and sumbit Detailed Project Reports. I promise to have the project online by end of December next year," he said.
With regard to the proposed 180-km outer ring road for the new capital Amaravati, at  an estimated cost of Rs 20,000 cr, the Union minister said that the ORR would be an eight-lane, access-controlled expressway. It would be similar to the under construction expressway between Delhi and Meerut.
Expressing concern over the increasing road accidents (5 lakh a year in the country with 1.5 lakh deaths) Gadkari said the proposed new Motor Vehicle Act would revolutionise the whole system. Stating 30 per cent of the driving licences were fake, he added that the government was planning to set up driver training institutes in every assembly constituency, which would help in issuing driving licences in a foolproof manner.  Stressing  the importance of using waterways for transportation of goods and people, Gadkari said that AP had a great potential in this regard. He said already a survey works of the waterways was under progress in the state and sought the cooperation of the state government in this regard.
Thanking Gadkari for the announcement of Rs 65,000 cr worth road projects, the CM said they were beyond his expectations and added that he was very happy. Stating that handholding by the Centre was still needed as the state was yet to develop a lot, he added that he would submit a blueprint and an action plan with regard to the Amaravati ORR project to Gadkari for approval within a month and wanted the projects to be completed expeditiously. He said new roads linking Rayalaseema with the new capital would reduce the travel time. He also requested for a new road along the lengthy coast of the state and wanted it to be done in a single stretch and not in a piecemeal manner. He said it would  help in port-road connectivity and also give a boost to tourism.
Vijayawada MP Kesineni Srinivas presided over the meeting. Union Minister of State YS Chowdary, MPs, MLAs, MLCs and others were present.
Sources:  The New Indian Express
The Centre has launched the Green Highways (Plantation, Transplantation, Beautification and Maintenance) Policy 2015, Road Transport and Highways Minister Nitin Gadkari told Lok Sabha on Thursday. The policy aims to develop eco-friendly National Highways with the participation of the community, farmers, NGOs, the private sector, government agencies, and the forest department, Gadkari said during Lok Sabha's Question Hour on Thursday.
Elaborating on the benefits, the minister said that this initiative would help around 10 lakh people get employment opportunities.
According to Gadkari, the key objectives of this policy are to evolve a framework for plantation along national highways, to reduce the impact of air pollution and dust as trees and shrubs are known to be a natural sink for air pollutants, to reduce the impact of the increasing noise pollution, to arrest soil erosion, to prevent glare from the headlights of incoming vehicles, etc.
The transport ministry has already decided that, henceforth, for the work related to making the highways more green, 1 per cent of civil work costs should be added separately while arriving at the total project cost of national highways being built, he added.
Gadkari also appealed to all MPs to come forward to help the Road Transport Ministry to implement the green initiative successfully.
During the Lok Sabha Question Hour session, the minister also highlighted the fact that around 1.5 lakh people die in road accidents every year in India. "Around 1.5 lakh people die in around 5 lakh road accidents every year in the country. This is a huge number," Gadkari said.
He explained that due to such a large number of accidents, the country loses around 55,000 crore annually, which is 3 per cent of the GDP.
The minister also added that during the 12th Five Year Plan, private investment to the tune of approximately 1,78,000 crore is required for the development of National Highways out of the total requirement of 4,83,000 crore.
Gadkari went on to speak about the hurdles which are generally faced while dealing with the Road Transport and Highways Ministry and said that all problems related to execution of 95 per cent of highway projects were resolved and work on them will start very soon. In case of the remaining 5 per cent projects, efforts are on to resolve the pending issues, he said.
"Considering the importance of completing the projects, various steps have been taken by the government and the National Highways Authority of India (NHAI) to remove the hurdles affecting the construction of national highways that includes streamlining of land acquisition and regulatory clearances, close coordination with other ministries, revamped disputes resolution mechanism, etc.," he said.
He added that the NHAI has also decided not to award projects till all major pre-construction approvals are in place for the projects to avoid post-bid delays and litigations.
Sources: carandbike(NDTV venture)
7,500 km at completion risk, trend shifts to govt-funded format.

The road sector is being widely touted as the only glimmer of hope in a bleak core sector narrative, but the numbers tell a different story
On December 2, creditors of Hyderabad-based road developer IVRCL Ltd decided to convert their loans to the company worth Rs 7,500 crore into a majority equity holding. The lenders, led by State Bank of India and IDBI Bank Ltd, invoked the strategic debt restructuring (SDR) provision that allows banks to take over the management of a firm after converting debt into equity in cases where debt restructuring has failed or is near failure.
In August, Gammon Infrastructure Projects Ltd agreed to sell six roads among nine infrastructure projects to BIF India Holdings Pte Ltd for Rs 563 crore, taking advantage of a newly introduced regulation to ease the exit of developers of operational road projects. On November 23, Gammon India Ltd's lenders decided to invoke the SDR norms and convert a part of its Rs 15,000-crore debt into majority equity.
The road sector is being widely touted as the only glimmer of hope in a bleak core sector narrative, but the numbers tell a different story. An estimated 7,500 km of highway projects have been deemed to be at high risk of not being completed, including 5,100 km under construction and 2,400 km of operational sections that were awarded mostly between fiscals 2010 and 2012 on the Build, Operate, Transfer (BOT) format.
Estimates prepared by the research arm of rating agency Crisil show that of the projects under construction that are at high risk, around 50 per cent are due to significant cost over-runs and weak wherewithal of sponsors.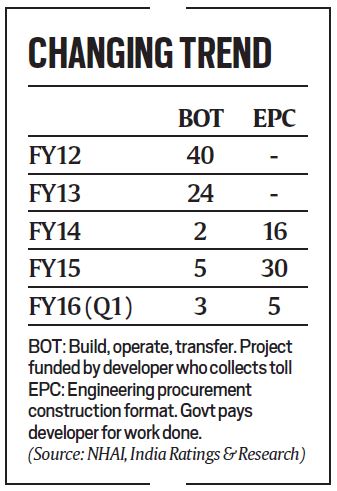 Finding it difficulty to award Highway sections to private developers, the roads ministry has resorted to a sharp shift from the BOT model to the government-funded Engineering Procurement Construction (EPC) format. The EPC model is less capital-intensive and the developer is largely insulated from the traffic risk — the government makes the payment and the developer's responsibility ends with delivering the completed project.
Under the BOT model, where the developer funds the project and earns returns from toll collection for the duration of the concession, the capital is locked in for a long period with the risk of revenue not adequately covering for construction and debt servicing costs. Road Transport and Highways Secretary Vijay Chhibber told The Indian Express that about 80 per cent of road projects are being offered under the EPC route currently, with BOT and hybrid annuity accounting for the rest. "As the market changes, we will increasingly move away from EPC and in favour of hybrid annuity and BOT," he said.
The hybrid annuity model is a mix of the EPC and BOT models, where the road authority will provide an initial grant of up to 40 per cent of the cost with the developer chipping in with the rest and completing the project. Data from India Ratings and Research — a unit of Fitch Ratings — shows that 21 highway projects worth Rs 26,000 crore failed to attract bids over the last two fiscal years.
As a result, the National Highways Authority of India (NHAI) had to fall back on EPC contracts to plug the gap — from nearly an all-BOT road model during 2008-09 and 2012-13, the share of BOT dipped below 15 per cent in 2013-14 and 2014-15. For instance, out of 7,980 km length of national highways awarded during the last year, just 700 km had gone on public private partnership mode and the rest were all EPC projects. But even if a large-scale shift to EPC were to happen, there are bound to be tremendous constraints on funding. A parliamentary panel review report in December flagged that NHAI was able to spend only Rs 6,208 crore out of Rs 23,691.8 crore, or about 26 per cent, allocated during 2014-15 at the Revised Estimate stage (in the budget for 2015-16).
The official contention of the roads ministry, though, is that during 2014-15, the NHAI recorded total cash outflow or expenditure amounting to Rs 23,696.19 crore and that the company actually used borrowings amounting to Rs 2,876.40 crore to bridge the gap between resources from the government and its cash outflows.
While there seems to be some pickup in project awards, the outlook for under-construction projects is turning more bleak. "Under-construction projects require equity and cost-overrun support of around Rs 28,500 crore over the next two years. Of this, about Rs 16,000 crore could be stumped up from internal accrual of sponsors and sale of stake at the special purpose vehicle level. That leaves a significant shortfall of Rs 12,500 crore," said Sudip Sural, senior director, Crisil Ratings, who worked on the roads sector report.
On the issue of projects awarded between 2010 and 2012 being at a high risk of not being completed, Chhibber admitted that the government has worked hard to work a way around the legacy issues that were dogging progress of road projects. "The real gamechanger is the recognition within the government that we may have also contributed to the languishing projects, in terms of delays in clearances and land acquisition. So, we've taken a decision that to the extent that the delay is on account of such factors, we will compensate the developer. This is a major policy shift… the acceptance of the fact that the government has not met its side of the bargain," he said. He also said that in some cases, the concessionaire may have taken out more money out of the project and is now not interested in its completion.
In such cases, Chhibber said the ministry will not stop short of taking action against developers, "even to the extent of cancellation of contracts". Atul Punj, chairman, Punj Lloyd Ltd, a construction services player in the infrastructure sector, told The Indian Express that while there was an uptick in the highways and the power transmission sectors, most other infrastructure segments were still struggling. According to him, the clubbing of the construction sector within the overall infrastructure bracket for funding purposes was undermining the recovery. This is more so, he said, because banks were at the upper end of their limits on lending to the infrastructure sector, leaving the construction sector, which shoulders the primary load of setting projects into motion, badly hamstrung.
Pending disputes: Rs 25,000 crore Disputes are another issue that are hampering the completion of road projects. Data from the road ministry shows that 112 cases involving Rs 25,000 crore were pending under arbitration between the NHAI and developers till end-April 2015. The disputes are typically accompanied by lengthy arbitration, something that private players feel drains them badly. Added to this is the fact that an underdeveloped bond market has forced PPP road projects to mainly depend on debt from commercial banks, something highlighted by the Reserve Bank of India Governor Raghuram Rajan, who cautioned banks of their high exposure to the sector and underscored the need to deleverage.
By February 2015, the total deployment of gross bank credit in the road sector was Rs 1.67 lakh crore, 384 per cent up from FY08. The infrastructure sector was identified by RBI, in 2013, as one of the five sectors with a high level of stressed advances. Wooing investors Apart from the hybrid annuity model, introduced for projects granted from October 1, 2015, the government has been looking at other ways to boost investor appetite.
In August 2015, the Cabinet Committee on Economic Affairs cleared a proposal to allow infrastructure companies — essentially in the road sector — to divest 100 per cent of their equity after two years of completion of construction for all projects given as per the BOT model, irrespective of the year the contract was handed out. This was to allow companies to use the funds from the sale of equity to invest in other projects as well as repay their debts. But road developers say it's tough to hold on to the asset for even two years after completion of construction, as the debt goes up because of cost escalations due to inordinate delays for land and other clearances, legal disputes and arbitration proceedings. The solutions, according to a Maharashtra-based private developer, are far from optimal.
Sources: Indian Express