Mihir : New Delhi,
The National Highways Authority of India (NHAI) is set to award road projects of over 1,600 km under the Engineering, Procurement and Contract (EPC) route in the next few months, an indication that momentum is picking up in the sector that has been under pressure in recent times.This is part of the 2,500 km of projects earmarked by the authority for awards this year.
"We have already received bids for five projects covering 502 km and the response is good. The number of bids these projects have received range from as low as 4 to 12. We are satisfied with the response under the EPC," said a senior NHAI official.
In addition, the NHAI has also called bids for another 225 km and are preparing bids for projects covering 800 km.
The official added that these projects will act as a booster for the slowdown-hit infrastructure companies, who are not showing interest in projects under public-private partnership (PPP).
NHAI had to shift its focus from awarding under EPC after projects offered under PPP mode failed to attract takers. The authority did not find any takers for 20 "viable" projects put up for bids during the current fiscal.
Projects under EPC are virtually risk-free for the contractor, as the government funds the construction. Under this mechanism, the contractor has to quote the cost of constructing or upgrading the road section, and if the bid is accepted, the government funds the project.
The official added that the authority has enough cash to fund these projects under EPC during the current fiscal.
"Money is not an issue during the current fiscal, as these projects would require only 15 per cent of the total project cost during the year. Also, we do not have to acquire a large amount of land because these projects are to be built on the existing alignment and land required will already be in place," said the official.
With the award of 2,500 km under EPC, NHAI would be able to able to improve its award tally for the current fiscal.
The authority managed to award only 800 km of projects in 2012-13.
During the current fiscal, NHAI has awarded projects covering 859 km so far – a substantial portion under EPC. The road transport ministry has awarded projects covering 463 km.
EPC BOOSTER
BIDS RECEIVED for 5 projects covering 502 km
THE average number of bids received range from 4 to 12
BIDS are being called for projects covering 225 km, and preparations are underway for an additional 800 km
The award target for projects under EPC is 2,500 km
859 km of road projects have been awarded in this fiscal
Source-http://www.indianexpress.com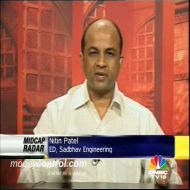 Nitin Patel, ED, Sadbhav Engineering  , says that recently the company as emerged as a successful bidder for the two lane project in Tamil Nadu. The project is based on annuity basis. The company has also submitted another bid for Rohtak-Hissar project for Rs 1300 crore, the results for which is expected today evening.
Out of the 12 projects, 8 projects are now operational and the company expects the ninth project to be operational by June. Going forward, depending on the equity and investment commitment the company may go for asset securitization.
Below is the edited transcript of his interview to CNBC-TV18.
Q: It is understood that your company has emerged as a successful bidder in NHAI's two lane Tamil Nadu project. By when do you plan to start construction on the project? What will be the total cost and your profit margins?
A: This is a two lane road project based on annuity. The existing highway has width of seven meter which needs to be extended to 10 meter and the length of the project is 80 kilometers. We estimate the total project cost to be around Rs 400 crore and it will take around two years to complete the job. We have received a concession period of 15 years. So, for the remaining 13 years we will receive annuity amount from NHAI as per the terms of concession.
Q: How much margins do you make upfront?
A: In normal course, we expect to make around 12-13 percent at EBITDA level at EPC value and around 16-18 percent as returns on investment. This is the normal bidding criteria for us.
Q: What has been the activity from NHAI side on both build-operate-transfer (BOT) and EPC. How does the order pipeline looks? Are they looking aggressive in awarding orders? 
A: On cash contract front, NHAI invited around 8-9 tenders during last month. The response was quite good and NHAI received bidders at almost 20-22 percent lower then their estimate cost on the cash contract front. On BOT front, only one tender went to IL&FS Transportation Networks (India) Limited (ITNL) which is of Barwa Adda to Panghat.
We have received annuity for the second project. Today, we have submitted a bid for Rohtak-Hissar project for Rs 1300 crore, the results is expected to be out by today evening. Five entities have submitted their bid including us. Another 2-3 bids will be submitted before March 31, the central government and the Planning Commission will give approval for rates for the projects. Later, based on that, NHAI will come for the bidding and particularly in BOT and annuity front.
Q: Do you have any plans to reduce debt, are you securitizing any project, your debt stands at over Rs 3000 crore?
A: Out of the 12 projects that the company has, 8 are now operational and we expect the ninth project to be operational by June. So, in terms of the operational projects the number of projects is high and also the revenue parameter seems reasonable.
So, based on our requirement of the equity and investment commitment we will plan to securitise one or two assets. We have started that process but we require equity investment over the period four years from now so the planning will be done as and when needed.
source: http://www.moneycontrol.com
MUMBAI: The infra growth story at least in the road sector appears to be over as the private sector is now shunning government's road projects. The government which announced an ambitious target of $1 trillion of infrastructure spending is finding no takers for the 8,000 km of road projects to be awarded under the built, operate & transfer (BOT) mechanism this fiscal.
Interestingly, the National Highways Authority of India (NHAI), the nodal agency for awarding these road projects, witnessed phenomenal success in awarding over 8,000 km of road projects last year as 31 of the 51 road project were bagged at premium. Based on last year's success, the government increased the target to award 8,800 kms of road projects this year; however, NHAI so far was able to award only 700 kms with less than four months remaining in the current fiscal.
Two projects, worth about Rs 2,450 crore, awarded last year to DSC Ltd and Gannon-Dunkerley Co Ltd were terminated after failure to achieve financial closure. This was the first time that such termination had to be done due to failure of companies to achieve financial closure (tie up debt).
At current pace of less than 5 km of road construction per day, the government is way behind its ambitious target of achieving 20 km of road construction per day for which it needs to award over 7,000 km of road projects each year. The reason: Availability of 50 road projects worth Rs 50,000 crore totaling 5,000 km are on the block in the secondary market as the debt-laden infrastructure firms wants to get rid of these road projects that they bagged by aggressive bidding and are now finding it difficult to execute due to the depressed returns. Prime Minister Manmohan Singh reviewed the performance of the transport sector in a series of meetings recently and a recent PMO statement on targets for awarding road transport and highways project last week said, "The ministry will try its best to award road projects as per the original targets for FY 12-13 and will certainly cross 8,000 kms of awards this year by March, 2013. Road projects of at least 3,000 kms length will be awarded under OMT by March, 2013."
This means that in the absence of takers for road projects under BOT basis, which requires companies to raise funds from the market, the government is planning to award 3,000 km of road projects on engineering procurement contract (EPC) basis, where government spends the entire money required to build roads. However a government statement on Wednesday said, "As against the target for awarding works for a total length of 8,800 km during 2012-13, it has been possible to award projects for a length of 705 km upto October, 2012. Some projects have not received good response from bidders. Apart from general slowdown of economy, viability of some of the projects, sectoral lending caps of the banks, limitations of the concessionaires like availability of equity and other resources to execute the projects appear to be the main factors for poor response."
"I have my doubts on the PMO statement. If they awarded just 700 kms in the first nine months, then how can they award 9000 km in the next three months. The constraints like land acquisition, funding from banks and remain the same. The government first needs to address these issues before awarding further road projects," Bajrang Choudhary, CEO, Infrastructure Project Development at SREI Infra told ToI. Leading infrastructure firms like L&T, GVK, GMR, IVRCL, Gammon Infrastructure, SREI Infrastructure, Gayatri Projects, Madhucon Projects, Ashoka Buildcon amongst others have meanwhile reportedly put their road assets on the block.
Infra firms meanwhile are being chased by their lenders to sell assets any which way they can as the banks have stopped lending to the road sector with stringent lending norms scaring away private developers from investing in the highway projects. Over three dozen highway projects are awaiting financial closure.
source: http://timesofindia.indiatimes.com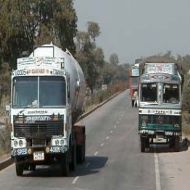 India on Thursday sought investment from Malaysian companies in road-development projects in the country, stating that it had embarked on a massive national highway building programme. Visiting minister of state for road transport and highways, S Sathyanarayana, said India envisaged investment of upto USD 70 billion in the next five years in this field.
"About 50-to-60 percent of this programme is envisaged to be built through public-private partnership (PPP) in different types of concession agreements such as the build, operate and transfer (BoT) on toll basis and design, build, finance, operate and transfer (DBFOT) concept," he said.
"A balanced programme is envisaged to be taken up on BoT (annuity) and engineering, procurement and construction (EPC) mode with public funding," the minister said. "We intend to take up mega projects of longer length of about 400 to 500 km estimated to cost about USD 1 billion each and would welcome international participation and foreign direct investment (FDI)," he told reporters at the sidelines of the Asean-India Connectivity Summit.
source: http://www.moneycontrol.com
Construction equipment major Puzzolana is expecting the government's proposal to allot highway projects to contractors on an annuity basis instead of build, operate, transfer (BOT) basis to turn around the road sector.
Puzzolana, which has about 45% share in the Rs1,200 crore construction equipment market, depends on the highways builders for bulk of its equipment sales.
"Till 2008, we were recording about 100% growth. However, for the last 2-3 years, the growth has been 10-15%. The activity in the road sector particularly the highways has been sluggish due to a variety of problems related to the project execution. The construction companies have also been facing problems in financial closures," Abhijeet Pai, managing director of Puzzolana group, said.
According to him, there are indications that the government would now look at allotting 70-75% of the proposed 15,000 km roads on annuity and operation & maintenance basis. "The share of BOT projects would significantly come down, thereby decongesting the sector. Currently, there are more BOT projects than the annuity. Once this shift takes place,all contracts would be on EPC basis and the sector would get relief from financial troubles," he said.
To address the changing market conditions, Puzzolana will unveil a new sander equipment at the Bauma Conexpo Show – BC India 2013 at Mumbai in February.
Source: http://www.dnaindia.com
The highways ministry has said that the government must execute its ambitious project of constructing 9,500 kilometres of roads beginning this fiscal, through the public-private partnership route in the engineering, procurement and construction (EPC) mode as all other mechanisms of constructions have turned out to be costlier and time consuming exercises.
In a note to the Cabinet Committee on Economic Affairs (CCEA), the ministry has suggested that in view of the government's objective of constructing 20 kilometres of roads per day as per the National Highways Development Programme, the Union Budget 2012-13 has had set a target of constructing 8,800 kilometres of roads this year, which was subsequently revised to 9,500 kilometres for the national highways.
It has sought the CCEA's approval for constructing 4,000 kilometres this fiscal followed by 3,000 kilometres next fiscal and another 1,500 kilometres in 2014-15 through the EPC mode.
The ministry has justified this move by saying that the annuity mode in build, operate and transfer (BOT) projects is a high cost proposition in a high interest rate regime.
Under the "Waterfall Mechanism" recommended by the BK Chaturvedi Committee, highways with traffic density of 5,000 passenger car unit (PCU) can be taken up under the EPC mechanism.
But for roads with a higher PCU density it has said that BOT (Annuity) will have to be tested before executing them through EPC, which leads to unnecessary delays in the award of projects.
Since the majority of road stretches that were attractive to bidders are already under implementation, the remaining ones would necessarily be less attractive for bidders for taking them under the BOT (Toll) mode. The ministry cited the Planning Commission for having opposed the BOT-Annuity mode.
The ministry has asked the CCEA to empower it for awarding projects in the EPC route without having to go for implementation under the annuity mode.
It has also asked for the present ceiling of 4,000 kilometres of four-laning under National Highways Development Programme-Phase IV to be raised to 8,000 kilometres.
source: http://www.indianexpress.com
The National Highway Authority of India (NHAI), the government-backed autonomous manager of highways, plans to build one-third (or 2,800 km) of this fiscal's target of 8,800 km long of road network in the form of two-lane roads on cash contracts.
JN Singh, member-finance of the NHAI, said, "As most of the two-lane roads lack heavy traffic, the projects would be awarded on EPC (engineering procurement and construction) or cash contract basis rather than on BOT (build-operate-transfer) or BOOT (build, own, operate and transfer) basis."
The two-lane projects, therefore, may not attract big BOT developers that covet only mega highways that yield higher margins.
So, smaller road construction firms ravaged by stiff competition, margin pressure, high interest cost and stretched balance sheets may find the cash contracts manna from heaven.
For, the two-lane projects may entail work orders worth up to Rs15,000 crore.
A report by Merrill Lynch said pure road contractors such as IVRCL and NCC could benefit.
Agreed Pankaj Kumar, senior analyst at KJMC Capital Market
Services. This fiscal, he said,
could prove to be a good year for BOT players-cum-road contractors such as IVRCL, HCC, Nagarjuna Construction. But pure BOT developers may find the going tough.
Last fiscal, the NHAI awarded 35 projects. All were for four-lane or six-lane roads, and 23 projects garnered premium status, fetching Rs24,200 crore in net present value (NPV) for the NHAI. (NPV is the difference between the present value of cash inflows and outflows.)
Singh said projects this fiscal would not fetch such huge NPV. Value of orders will also decline due to shift to two-lane orders.
The NHAI will fund the two-lane projects with capital raised from tax-free infrastructure bonds.
Land acquisition and annuity projects should not pose a problem as it had raised Rs10,000 crore last fiscal through bonds.
It has also received approval for an additional bond issue of Rs10,000 crore this fiscal.
Besides, a recent report by Motilal Oswal Securities said the NHAI rakes in Rs9,200 crore in cess, Rs3,000 crore in toll collections and Rs3,000 crore in premium, which would help it in meeting recurring EPC obligations and annuity projects.
The report also stated that intense competition in the road sector is likely to ease due to challenging macroeconomic environment and with established players committing their capital to large infrastructure projects.
The road sector may see consolidation as aggressive bidding, lower-than-expected tariffs, rising funding cost and execution delays have considerably lowered returns on projects, the Motilal report added
Source: www.dnaindia.com
The deal marks Banyan Tree's seventh investment in India and the first in the current year.'
Bhopal-based infrastructure firm Dilip Buildcon Ltd (DBL) has raised an undisclosed amount from Banyan Tree Growth Capital LLC for a minority stake, according to a company statement. Under the deal, Banyan Tree will also have a Board representation in Dilip Buildcon.
DBL is promoted by Dilip Suryavanshi, who has been engaged in the construction business since late 1980s. Currently, the company focuses on engineering, procurement and construction (EPC) work for road and bridges segment alone. Earlier, DBL used to carry out construction work for Madhya Pradesh Public Works Department and slowly graduated to bigger contracts in the range of Rs 50-100 crore. The firm now employs more than 400 people.
The deal marks Banyan Tree's seventh investment in India and the first in the current year. Its existing portfolio includes Axiom Cordages, Trimax IT Infrastructure Systems, GEI Industrial Systems, Deepak Fasteners and Dee Development Engineers.
The road sector has been increasingly attracting the attention of private equity players. India may require $1.7 trillion in the decade starting from 2010, to meet its infrastructure demand and keep pace with the economic growth and urbanisation, according to a report by Goldman Sachs. Of this, power and roads alone may require upwards of $700 billion.
In January 2011, private equity major 3i India invested around $61 million (Rs 302 crore) for a minority stake in SIBHPL, a portfolio of BOT (build, operate and transfer) road projects of Supreme Infrastructure India Ltd (SIIL), a mid-size EPC contractor.
In the same year, Norwest Venture Partners and Xander Group invested Rs 400 crore in Sadbhav Infrastructure Project, which had a portfolio of nine concession-based projects. Nandi Infrastructure Corridor Enterprises Ltd (NICE), which is developing the 164 km tollway between Bangalore and Mysore, was also in deal talks with players like JPMorgan and Goldman Sachs. Private equity major Actis also formed a $200 million joint venture with Tata Realty & Infrastructure to develop roads and highways last year.
Source: www.vccircle.com
The Road Transport and Highways ministry will shortly finalize a new model to be used for bidding out 20,000 km of two laned highways worth Rs 50,000 crore that it plans to build during the next five years.
Under the new EPC (Engineering Procurement Construction) model, projects would be awarded on a turn key basis. The ministry will specify the project requirement including its cost and pay the entire amount to the lowest bidder at one go. It differs from the earlier EPC model, which was executed on item rate basis, where the ministry separately tendered and billed for every item of expenditure.
The old system was infamous for cost escalation, time overruns and too much official interference.
At a meeting on Monday attended among others by CP Joshi, road minister and Montek Singh Ahluwalia, Planning Commission deputy chairman, some of the sticky provisions of the EPC document including the duration of defect liability period (DLP), subcontracting clauses, bonus to be given to contractors for early completion of projects, etc. were discussed.
"It was decided to sort out all issues within the next fortnight and get the final EPC document approved by the Inter Ministerial Group by month end," said a official.
The duration of DLP had become a major bone of contention between the plan panel and the road ministry. While the ministry wanted the DLP of 5 years, the plan panel has decided on two years. "The ministry has finally come on board on the issue," said a official.
Another issue involves subcontracting by the developer. While the ministry wants that not more that 50% of the total length of the highway can be sub contracted, the plan panel wants it to be 70%. The plan panel also wants a bonus of upto 5% of project cost for the contractor for early completion. However, road ministry wants the bonus clause to be deleted.
The model document, which is being prepared by the plan panel, has already undergone six revisions.
The ministry presently adapts two other models for awarding highway projects –BOT (toll) where a developer builds roads and recovers investment through toll collection during the contract period which usually runs upto 20 years and BOT (annuity) where the developer builds the roads and the government pays it in installments.
Source: http://www.hindustantimes.com
Mid-sized infrastructure EPC contractor Supreme Infrastructure appears substantially undervalued considering its better than industry performance in terms of margins, return on equity and working capital cycle. Its growing order book and entry into BOT road projects give strong visibility about future growth. Long-term investors should add this scrip to their portfolio.
GROWTH DRIVERS
The company currently has orders worth Rs 3,117 crore which is 3.4 times its sales for FY11. Nearly 85% of these unexecuted orders are for buildings and roads, while the rest consist of bridges, irrigation and power etc.
In the roads segment, Supreme Infra is a fully backward integrated company. It produces all the key raw materials such as asphalt and RMC, and has in-house stone quarrying and crushing capacities. This enables it to earn one of the best margins in the industry.
Source: economictimes.indiatimes.com