Two of Modi's pet projects vie for 'first smart city' tag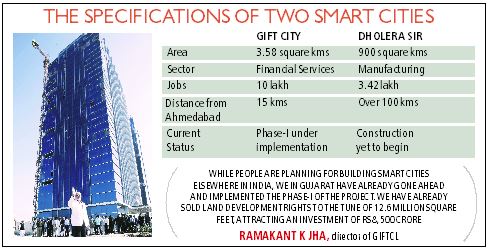 The Vibrant Gujarat Global Investors' Summit 2015 (VGGIS) will tell a tale of two upcoming smart cities in the state — GIFT City and Dholera SIR — both of which are vying for "India's first smart city" tag.
While the ambitious Rs 81,000-crore GIFT project or the Gujarat International Finance Tec-City has already attracted investments to the tune of Rs 8,500 crore and promises 50,000 white-collar jobs in the services sector in the next two years, Dholera SIR or Special Investment Region is expected to churn out a mix of blue and white-collar jobs in the manufacturing side and is still largely restricted to the drawing board, with promises of over Rs 100,000 crore made in the previous Vibrant summits.
Though Union Urban Development Minister M Venkaiah Naidu spoke of turning New Delhi into country's first smart city at a formal event on January 3, both these projects in Gujarat are being projected as smart cities to an international audience in this edition of Vibrant Gujarat.
While GIFT city will be projected in a big way in the a special session titled: "Invest in India Summit 2015: Financing for Future Growth" — the biggest seminars to be organised during the summit — the Dholera SIR will see a formal presentation by the GIDB on the project at "Smart Cities for Next Generation", official sources connected with the VGGIS said.
Smart cities like GIFT embodies the "walk-to-work concept" where the city offers very high quality of life comparable with any developed European city like round the clock water supply, electricity, clean air, quality education, healthcare, security, entertainment, sports, high-speed and efficient urban mobility. These cities will be managed and operated by qualified professionals.
"While people are planning for building smart cities elsewhere in India, we in Gujarat have already gone ahead and implemented the Phase-I of the project. We already have sold land development rights to the tune of 12.6 million square feet, attracting an investment of Rs 8,500 crore," said Ramakant K Jha, director of Gujarat International Finance Tec-City Company Ltd (GIFTCL), a joint venture company between state-run Gujarat Urban Development Company Ltd (GUDCL) and a private firm Infrastructure Leasing & Financial Services Ltd (IL&FS), that operates and manages the project.
"Our project is very different from the smart city planned in Dholera. Our is a financial city with stress on the services sector, while Dholera is essentially an industrial city with stress on production and manufacturing. GIFT is a project that is offer white-collar jobs in a densely populated area of operations that will be restricted to 3.58 square kms near an urban city like Ahmedabad, while Dholera will offer a mix of blue and white collar jobs with operations spread over 900 square kms from the city," said Jha while trying to differentiate both the smart city projects that were envisioned by the state government when Prime Minister Narendra Modi was Gujarat chief minister.
GIFT city located near the urban city like Ahmedabad which alreadyhas built two of the 110 high-rise towers and has about 700-1,000 persons working in 16-odd companies that currently operate from premises. "In the next two years, you will surely see at least 50,000 people working at GIFT," Jha said, adding that the project is estimated to offer 10 lakh jobs when completed and tap the USD 50 billion that India loses to international financial service centres like Singapore, London and Dubai. Meanwhile, Dholera SIR — located about 100 kms from Ahmedabad on the Delhi Mumbai Industrial Corridor (DMIC) — is expected to offer 3.42 lakh jobs by developing a new destination for heavy engineering, automobiles, electronics, pharmaceuticals and biotechnology. Though investment promises to the tune of Rs 100,000 crore have already been made in the previous editions of Vibrant Gujarat, by companies like Hindustan Construction Company (HCC) and Universal Success Enterprise (USE), Dholera SIR is yet to take off. The project is planned to be developed in three phases, each spread over a period of 10 years. Phase-I, II and III will comprise area of 11,500 hectares, 12,000 hectares and 10,200 hectares, respectively. However, global real-estate consultants like Jones Lang LaSalle (JLL) has a slightly different take on both these projects. "While GIFT city located near an urban conglomerate like Ahmedabad can at best be called as a smart project, Dholera which will be built from a scratch will be a smart city. I say so because, the scales of both these projects are different," said Nirav Kothary, Head-Industrial Services, JLL.
Source: The Indian Express