India calls for Malaysia cos in road projects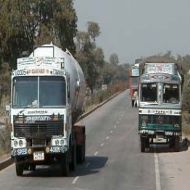 India on Thursday sought investment from Malaysian companies in road-development projects in the country, stating that it had embarked on a massive national highway building programme. Visiting minister of state for road transport and highways, S Sathyanarayana, said India envisaged investment of upto USD 70 billion in the next five years in this field.
"About 50-to-60 percent of this programme is envisaged to be built through public-private partnership (PPP) in different types of concession agreements such as the build, operate and transfer (BoT) on toll basis and design, build, finance, operate and transfer (DBFOT) concept," he said.
"A balanced programme is envisaged to be taken up on BoT (annuity) and engineering, procurement and construction (EPC) mode with public funding," the minister said. "We intend to take up mega projects of longer length of about 400 to 500 km estimated to cost about USD 1 billion each and would welcome international participation and foreign direct investment (FDI)," he told reporters at the sidelines of the Asean-India Connectivity Summit.
source: http://www.moneycontrol.com