Written by  Parvati Sharma
 Infrastructure developer IVRCL Limited is going slow on its proposal to monetise three more build, operate and transfer projects in the light of expectations that the Union government will soon take a decision to allow 100 per cent stake sale in BOT projects. "It is just a matter of procedure. The decision will come soon as everybody, including the NHAI (National Highways Authority of India), is in favour of it," IVRCL chairman and managing director, E Sudhir Reddy, told Business Standard. At present, the Centre allows only 74 per cent stake sale in BOT projects.
Reddy said IVRCL would expedite the process of selling more projects after Centre's decision in this regard. The Hyderabad-based company recently sold three BOT projects – Salem Tollway, Kumarapalayam Tollway and IVRCL Chengapally Tollway – to the Tata group firm TRIL Roads Private Limited. The stake sale is yet to be approved by the NHAI and institutional lenders. The projects have been reportedly executed at a cost of Rs 2,200 crore and nearly two-thirds of this money had been lent by banks.
Reddy, however, said banks approving the stake sale should not be a problem as the projects were sold to a Tata group company, which has a good standing among the financial institutions. Last month, industry sources said, some of the operators of BOT projects hailing from Andhra Pradesh met the Prime Minister and apprised him of their problems.
More than the high interest rates, they were said to have told the Prime Minister that the rising cost of construction material due to sudden policy changes by state government was making development of BOT projects unviable.For instance, Reddy said, IVRCL was now securing sand from Jharkhand to execute a BOT project in Bihar as the Bihar government had banned sand mining in the state. There was also cost escalation on account of state governments delaying in execution of state-support agreement. These along with other factors were resulting in project costs spiralling by almost 15-20 per cent over the original estimates.
Besides, the developers had tendered for BOT projects assuming the GDP growth rate would be in double digits. With no such thing happening, only 5 per cent of the BOT projects in the country was now stated to be profitable.
Pankaj Shah, TNN
LUCKNOW: The Uttar Pradesh state government is in talks with potential bidders to develop 11 state highways, in what could be a big push to its mandate to develop road connectivity across the state.
It has been proposed that the highways will be developed by Uttar Pradesh State Highways Authority (UPSHA) on the public-private-partnership (PPP) model.
The prominent projects included the Shahjahanpur-Hardoi-Lucknow State Highway, Basti-Mehendawal-Tamkuhi road, Akbarpur to Jaunpur, Mirzapur and Dudhi Road, Gorakhpur to Maharajganj Road and Muzaffarnagar to Saharanpur via Deoband Road.
The state government has also clarified doubts of prospective bidders for the Agra to Lucknow green-field expressway. The ambitious access-controlled Agra to Lucknow six-lane, eco-friendly green-field expressway is to be constructed on a minimum distance and minimal agricultural land formula through the PPP mode.
Earlier on 24 April, the government held a pre-application conference for the Agra to Lucknow project in New Delhi where 15 prominent developers including GVK, GMR, ESSEL Infra and IL&FS Transportation, among others participated. The project will be developed at an estimated project cost of Rs 9,600 crore on Build-Operate-Transfer (BOT) model, for a 30-year concession period.
The Agra-Lucknow expressway expects to offer a smooth link between Greater Noida and Lucknow via Agra covering a distance of about 270 kms.
http://timesofindia.indiatimes.com
By YASHODHARA DASGUPTA, ET Bureau | 29 Apr, 2013, 05.00AM IST
Pay more on DND from today
By Bunty Tyagi in Noida
MOTORISTS using the Delhi Noida Direct ( DND) Flyway will have to shell out more now as toll rates were hiked from Sunday midnight.A decision to this effect was taken by Noida Toll Bridge Company Limited ( NTBCL) on Sunday. The rates have been increased by up to 20 per cent." The toll rate for cars has gone up from ` 22 to ` 25. For two- wheelers, it has been hiked from ` 11 to ` 12. The toll rate for light commercial vehicles has also gone up from ` 45 to ` 55. Buses and trucks will have to pay ` 70 instead of the earlier ` 55," NTBCL spokesman Anwar Abbasi said.

The rates were last hiked in November 2012.

For large vehicles with three axles, the rate has been increased from ` 75 to ` 100, followed by ` 130 for extra large vehicles, which was earlier ` 95.

" As per the agreement with Noida authorities, the company reserves the decision to hike toll rates every year," Anwar said.

The various residents welfare association ( RWAs) in Noida and Bharatiya Kisan Union ( BKU) criticised the move and threatened to hold a protest demonstration against the hike. " Since we have dragged the operator to court, the operator should not have hiked the toll rates," said A. N. Dhawan, the chief adviser of Noida Federation of RWAs.

Source :  http://epaper.mailtoday.in

Pay more on DND from today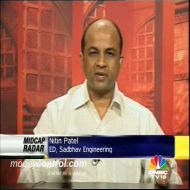 Nitin Patel, ED, Sadbhav Engineering  , says that recently the company as emerged as a successful bidder for the two lane project in Tamil Nadu. The project is based on annuity basis. The company has also submitted another bid for Rohtak-Hissar project for Rs 1300 crore, the results for which is expected today evening.
Out of the 12 projects, 8 projects are now operational and the company expects the ninth project to be operational by June. Going forward, depending on the equity and investment commitment the company may go for asset securitization.
Below is the edited transcript of his interview to CNBC-TV18.
Q: It is understood that your company has emerged as a successful bidder in NHAI's two lane Tamil Nadu project. By when do you plan to start construction on the project? What will be the total cost and your profit margins?
A: This is a two lane road project based on annuity. The existing highway has width of seven meter which needs to be extended to 10 meter and the length of the project is 80 kilometers. We estimate the total project cost to be around Rs 400 crore and it will take around two years to complete the job. We have received a concession period of 15 years. So, for the remaining 13 years we will receive annuity amount from NHAI as per the terms of concession.
Q: How much margins do you make upfront?
A: In normal course, we expect to make around 12-13 percent at EBITDA level at EPC value and around 16-18 percent as returns on investment. This is the normal bidding criteria for us.
Q: What has been the activity from NHAI side on both build-operate-transfer (BOT) and EPC. How does the order pipeline looks? Are they looking aggressive in awarding orders? 
A: On cash contract front, NHAI invited around 8-9 tenders during last month. The response was quite good and NHAI received bidders at almost 20-22 percent lower then their estimate cost on the cash contract front. On BOT front, only one tender went to IL&FS Transportation Networks (India) Limited (ITNL) which is of Barwa Adda to Panghat.
We have received annuity for the second project. Today, we have submitted a bid for Rohtak-Hissar project for Rs 1300 crore, the results is expected to be out by today evening. Five entities have submitted their bid including us. Another 2-3 bids will be submitted before March 31, the central government and the Planning Commission will give approval for rates for the projects. Later, based on that, NHAI will come for the bidding and particularly in BOT and annuity front.
Q: Do you have any plans to reduce debt, are you securitizing any project, your debt stands at over Rs 3000 crore?
A: Out of the 12 projects that the company has, 8 are now operational and we expect the ninth project to be operational by June. So, in terms of the operational projects the number of projects is high and also the revenue parameter seems reasonable.
So, based on our requirement of the equity and investment commitment we will plan to securitise one or two assets. We have started that process but we require equity investment over the period four years from now so the planning will be done as and when needed.
source: http://www.moneycontrol.com
The Ministry of Road Transport and Highways (MoRTH) has finally woken up to the gross violation of the toll agreements with concessionaires, who are collecting road tax on 17 major "under-construction" highways in violation of rules.
The amended notification of 2009 bars toll collection on incomplete highways. The flouting of rules came to notice from projects like Gurgaon-Kotputli-Jaipur, Delhi-Agra, Varanasi-Aurangabad and the Pune-Satara national highways.
Ironically, the violation of the Central Government's notification is taking place under the garb of "technicality". While the Government rules specifically mention that no toll can be imposed on the under-construction road projects, developers have started collecting toll. At present, there are 212 toll collection centres across the country under the National Highways Authority of India's (NHAI) various projects based on PPP, BOT or OMT model. "The collection of fee levied shall commence within 45 days from the date of completion of the section of national highway, permanent bridge, bypass or tunnel, as the case may be, constructed through a public-funded project," says the Review (Report) of the Toll Policy of National Highways in May 2009.
The Government has notified the National Highways Fee according to the National Highways Fee (determination of Rates and Collection) Rules 2008, and the rules are amended periodically. In 2009, it was amended keeping in mind widespread protest by road users and misuse by the concessionaries of BOT or PPP. A well-placed source said that the Ministry has asked the road making agency to review the contract agreement between the NHAI and concessionaries on the 17 stretches where toll is being charged.
However, a Ministry official justified the road tax on six-lane under-construction projects with the argument that toll was collected when these roads were just four-lane ones. However, citing the 2009 amendment, another official contested the argument citing the amended notification.
There are 111 public-funded road projects which collect toll. There are 102 State-wise stretches on which tax is levied. These include the 312-km Durg Bypass on NH-6 where toll is being collected by M/s Shakti Kumar M Sancheti Limited since December 2000. On some roads like the 72-km Badarpur-Kosi on NH-2, toll is being collected since June 2002. The Ministry also received complaints of overcharging by toll operators on NH-5 in Andhra Pradesh at Laxmipuram and Sunnambatti Toll Plaza. The concessionaire was penalised to the tune of `3.6 crore in total and contracts terminated. A penalty of `1.48 crore was levied o Vantada Toll Plaza in Gujarat. The matter is sub-judice.
source: http://www.dailypioneer.com
MUMBAI: The infra growth story at least in the road sector appears to be over as the private sector is now shunning government's road projects. The government which announced an ambitious target of $1 trillion of infrastructure spending is finding no takers for the 8,000 km of road projects to be awarded under the built, operate & transfer (BOT) mechanism this fiscal.
Interestingly, the National Highways Authority of India (NHAI), the nodal agency for awarding these road projects, witnessed phenomenal success in awarding over 8,000 km of road projects last year as 31 of the 51 road project were bagged at premium. Based on last year's success, the government increased the target to award 8,800 kms of road projects this year; however, NHAI so far was able to award only 700 kms with less than four months remaining in the current fiscal.
Two projects, worth about Rs 2,450 crore, awarded last year to DSC Ltd and Gannon-Dunkerley Co Ltd were terminated after failure to achieve financial closure. This was the first time that such termination had to be done due to failure of companies to achieve financial closure (tie up debt).
At current pace of less than 5 km of road construction per day, the government is way behind its ambitious target of achieving 20 km of road construction per day for which it needs to award over 7,000 km of road projects each year. The reason: Availability of 50 road projects worth Rs 50,000 crore totaling 5,000 km are on the block in the secondary market as the debt-laden infrastructure firms wants to get rid of these road projects that they bagged by aggressive bidding and are now finding it difficult to execute due to the depressed returns. Prime Minister Manmohan Singh reviewed the performance of the transport sector in a series of meetings recently and a recent PMO statement on targets for awarding road transport and highways project last week said, "The ministry will try its best to award road projects as per the original targets for FY 12-13 and will certainly cross 8,000 kms of awards this year by March, 2013. Road projects of at least 3,000 kms length will be awarded under OMT by March, 2013."
This means that in the absence of takers for road projects under BOT basis, which requires companies to raise funds from the market, the government is planning to award 3,000 km of road projects on engineering procurement contract (EPC) basis, where government spends the entire money required to build roads. However a government statement on Wednesday said, "As against the target for awarding works for a total length of 8,800 km during 2012-13, it has been possible to award projects for a length of 705 km upto October, 2012. Some projects have not received good response from bidders. Apart from general slowdown of economy, viability of some of the projects, sectoral lending caps of the banks, limitations of the concessionaires like availability of equity and other resources to execute the projects appear to be the main factors for poor response."
"I have my doubts on the PMO statement. If they awarded just 700 kms in the first nine months, then how can they award 9000 km in the next three months. The constraints like land acquisition, funding from banks and remain the same. The government first needs to address these issues before awarding further road projects," Bajrang Choudhary, CEO, Infrastructure Project Development at SREI Infra told ToI. Leading infrastructure firms like L&T, GVK, GMR, IVRCL, Gammon Infrastructure, SREI Infrastructure, Gayatri Projects, Madhucon Projects, Ashoka Buildcon amongst others have meanwhile reportedly put their road assets on the block.
Infra firms meanwhile are being chased by their lenders to sell assets any which way they can as the banks have stopped lending to the road sector with stringent lending norms scaring away private developers from investing in the highway projects. Over three dozen highway projects are awaiting financial closure.
source: http://timesofindia.indiatimes.com
Virendra Mhaiskar has made IRB India's largest and most profitable toll-road operator. In a sector that has most companies reeling under debt, he seems to be the rare animal with enough cash on hand
Name:  Virendra Mhaiskar
Age:  41
Profile:  Chairman and managing director, IRB Infrastructure
Rank in Rich List 2012: 96
Net Worth:  USD560 mln
The Big Hairy Challenge faced in the last one year:  Slowdown in the infrastructure business, public protests against toll payments, and allegations of political links
The Way Forward:  Focusing on project execution, particularly on the Ahmedabad-Vadodara BOT project
Virendra Mhaiskar must be incredibly crazy. There is nothing else that explains the kind of risks the 41-year-old chairman and managing director of IRB Infrastructure takes, and his rise as India's largest and most profitable toll-road operator. He deals with problems of the kind that could drive most people around the bend.
Consider, for instance, the episode this July when the Maharashtra Navnirman Sena (MNS), one of Maharashtra's most raucous political parties, thought up an idea: Galvanise supporters to go past toll booths across the state without paying to use the roads. Egged on by exhortations made by their leader Raj Thackeray, they complied, and men tolling the booths could do nothing. Thackeray claimed it was to protest against the obscene profits the "toll mafia" was raking in from the dense traffic that used these roads.
Toll booth staff manning the Mumbai-Pune Expressway, the crown jewel in IRB Infrastructure's portfolio, came in for special treatment. (The company is responsible for its upkeep until 2019.) Ironically, Mhaiskar says, "Raj is a friend at a personal level." But that said, he argues, "To those who say traffic has grown more than projected, I ask, what if it had been otherwise? Would we get our money back?"
I ask if he has tried explaining this to Mr Thackeray and how they continue to be friends. "Enforcing agreements signed with developers, and explaining the rationale to stakeholders is the government's job,'' he says, as a matter of fact. I can't help but think it ironical. But I guess there is a method to the irony.
How else could he have grown the company into India's largest in the sector, and manage 12 roads across west and south India? So, I probe him a bit deeper. "The government's policy on road construction and toll through the build-operate-transfer (BOT) model has been the most successful and transparent of all public-private partnerships in the country. But it is also the most poorly understood," he says.
The problem, Mhaiskar says, is no politician or bureaucrat has bothered to explain to the public how it works. By way of explanation, he offers an analogy. "If you borrow Rs 70 lakh to buy a home, and agree to repay it over 15 years, you return several times the amount to the bank by the end of the tenure, and nobody complains. Going by that same logic, how can you argue if a road developer has invested Rs 1,500 crore [over 20 years], returns ought to be limited to the original investment? What about our borrowing cost, maintenance costs and our returns?"
That is why, he says, public anger manufactured against toll-road operators by politicians have badly impacted investors in the business. Caught between policy changes and the unwillingness (or inability) of users to pay, they are stuck with millions of dollars in debt.
For instance, he's still trying to extricate himself from a situation in Kolhapur, where IRB won a 30-year contract in 2008 to maintain all of the city's inner roads. Back then, it was hailed as a pilot project that would lead the way for municipalities across the country to liberate themselves from the responsibility of maintaining roads.
People in the city, though, simply refused to pay, and earlier, in January, they organised rallies to protest against the tolls. Collections had to be stopped after the state government thought the protests impossible to ignore. All attempts to find a solution continue to hang in abeyance.
Problems like these find participants in the Indian infrastructure business under huge amounts of debt, and are compelling many to get out of the projects they had bid for. Mhaiskar, though, seems the rare animal with enough cash on  hand. His revenues almost doubled from Rs 1,753 crore in 2009-10 to Rs 3,255 crore in 2011-12. His profit margins are a little over 15 percent. And, early in October, he signed on to buy out MVR Infra's road project in Andhra Pradesh for an undisclosed amount. "A lot of such projects are now on sale, mostly by promoters under stress. We are looking at those that can give us an internal rate of return [IRR] of at least 20 percent," Mhaiskar says.
You must be wondering if Mhaiskar is counting his chickens before they hatch, but Parikshit Kandpal, a senior analyst at Karvy Insitutional Equities, shares his optimism and is putting a 'buy' rating on the stock.
Most of the projects IRB is involved with are either in the west or south of India, he says. These are parts of the country that have demonstrated most growth. Of these, projects in Maharashtra and Gujarat account for 74 percent of IRB's portfolio. "Understanding risks in traffic growth is a big part of our project evaluation," says Mhaiskar.
When the government opened up projects for private participation in the late 1990s, many businessmen bid aggressively. They followed up later by raising equity from the public at super-normal valuations. Mhaiskar, too, capitalised on the market's appetite for infrastructure companies. He raised Rs 944 crore through an initial public offering (IPO) in 2008.
For many, fat order books were a measure of success, irrespective of the cost at which they were acquired.  But soon the regulatory environment changed, and returns from ventures dropped below expectations. As banks cut down on lending, larger companies like GMR declared they were taking 'investment holidays'.
source: http://www.moneycontrol.com
Move can cut cost of funds for large projects
The prime minister has moved a proposal that will lead to classifying loans given by banks and financial institutions to road projects as secured debt.
The objective is to reduce the cost of funds for the projects and also encourage banks to take larger exposures in road projects.
To make this possible, prime minister Manmohan Singh has asked the chairman of his economic advisory council, C Rangarajan, to suggest appropriate recommendations. Roads secretary A K Upadhyay has been asked to put together a note to the council for the purpose. On its part, the finance ministry will seek feedback from RBI and banks. Rangarajan will consult RBI before making recommendations.
At a recent review by the prime minister, the ministry flagged the treatment of loans and the cost of money as the biggest limiting factors in mobilising funds for road projects.
The prime minister has asked road minister C P Joshi to ensure that contracts for construction of 8,000 km of roads are awarded by March. But the ministry has said that contracts for 3,000 km under the build operate and transfer scheme would be awarded by then.
The government has also decided to set up an independent rail tariff authority and railway minister Pawan Kumar Bansal will go to the cabinet with the relevant proposal next month. The authority may be announced in the next rail budget.
Also on the directive of the prime minister's office, the Mumbai elevated rail corridor and locomotive factories in Madhpur (Bihar) and Marhowra (West Bengal) would get support from the railways next year.
PMO wants the Maharashtra government to sign the support agreement for the elevated rail project within a fortnight. The railway ministry has been asked to ensure that bids for the project are opened before the next rail budget.
An inter-ministerial group headed by cabinet secretary Ajit Kumar Seth has suggested that the railway ministry seek approvals from the cabinet committee on economic affairs quickly for both the locomotive factories. Both will come up in partnership with the private sector.
About the dedicated rail freight corridors PMO wants revised estimates and funding arrangements finalised by next week.
Seth will coordinate security clearance before the financial ends for large port projects which plan to expand their combined handling capacity to 245 million tonnes a year.
March is also the deadline by which two major ports projects in Andhra Pradesh and West Bengal will be awarded. The shipping ministry's proposals for this will go before the cabinet soon.
Loans given to roads, bridges and other public properties like Delhi Metro are considered unsecured as there is no tangible security. Banks recently made a representation to finance minister P Chidambaram to let them classify loans to public property as secured advance.
Banks also said that once revenues began to come in as toll fee for sue of roads ad bridges, loans to them could be used as collateral, making it secured exposure.
Lately banks have been cutting their exposure as many road projects are stuck for want of clearances. Their main complaint is loans to projects delayed by more than two years have to be classified as substandard assets and they have to make higher provisions.
A substandard unsecured loan has a provisioning requirement of 25 per cent of total loans, while a secured loan has only 15 per cent in the first year of classification.
P Sitaram, chief financial officer of IDBI Bank, said, "For loans given to roads bridges and other public property there is no tangible security as these cannot be taken up by banks and sold off. But all these projects have toll collections that can serve as collateral. There is a view that these advances should be considered secured assets."
Bankers say that even working capital loans given to some debtors are secured as cash receivable from the customer is secured. The same argument can be extended to exposures to public utility infrastructure.
Usually road developers enter into a concession agreement with banks, NHAI and the state concerned. Private companies develop roads on a BOT basis which allows them to run and maintain the road or bridge for 10 to15 years and then transfer it to the government.
NAGPUR: Nagpur Municipal Corporation (NMC) has finalized project to install vehicle scanning machines at octroi posts to check evasion. The project worth over Rs 100 crore is probably the biggest in this fiscal. It would be implemented on BOT basis and machines would be installed at five major octroi posts to scan all vehicles coming into the city.
It will come up for approval of the standing committee in its meeting set for November 26. Chairman of committee Dayashankar Tiwari has convened back to back meetings on November 23 and November 26. NMC has been planning to install scanning machines at octroi posts to increase revenue for couple of years. The scanning machines will be installed at octroi posts on Wardha road, Bhandara road, Hingna road, Amravati road and railway station.
Source: http://articles.timesofindia.indiatimes.com