A New Chicago Every Year': PM's Meet on Smart City Plans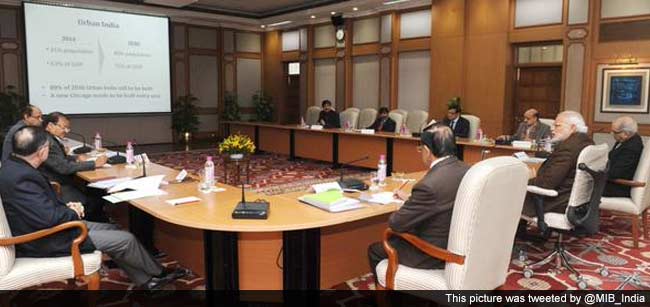 Prime Minister Narendra Modi, who has promised to build a 100 smart cities in the country, met senior government officials today in one of a series of consultations on the project.
He asked officials to identify the basics of infrastructure, quality of life, and citizen-centric services that would be essential to these 21st century cities, which will be built as satellite towns of metropolises and by modernising existing mid-sized cities.
Officials made presentations on urban statistics with one presentation suggesting that "a new Chicago needs to be built every year."
 The Prime Minister said at the meeting that the smart cities should be identified as hubs of economic activity and that the focus would be on turning "waste to wealth" with waste management and waste-water treatment processes, a  Press Information Bureau release said.
PM Modi has asked the Ministry of Urban Development to organise a workshop on this at the soonest, where officials would focus on reforms in laws related to urban development. The Prime Minister wants the smart city initiative to aim at improving the quality of urban governance, which would then strengthen the overall governance processes in the country.
The focus of the smart city – envisaged in a government note as one that would offer "decent living options to every resident" and provide a "very high quality of life comparable with any developed European city" – must not only be on the urban population, but also on the "urban-dependent" population, PM Modi has instructed.
India, the second most populated country on the planet, is projected to add another 404 million urban dwellers by 2050, the largest addition in the world, followed by China with 292 million, a UN report had said this year.
Finance Minister Arun Jaitley had told the parliament that "smart" cities are needed to accommodate the rising numbers, pointing to a burgeoning middle-class with "aspirations of better living standards".
The urban development ministry's concept note earlier this year had released preliminary ideas for the cities.
Source:NDTV